Download EZ-Patch (read the instructions below first!)
EZ-Patch.ny (2.17 KB)
I have an audio track with a bad glitch on the right channel (shown selected)



The glitch is too big and bad for the Repair tool.
It can be moderated using the "Pop Mute" effect, but that will not remove the damage, it'll just make it a bit smaller.
The best way to repair would be to make a "patch" by copying and pasting a similar piece of audio and cross-fading rapidly from one to the other. The audio immediately after the glitch would be suitable for making the patch, but it's quite a fiddly job to make a good job of patching.
Time for "EZ-Patch".
Here's I've selected the glitch and allowed a little room either side for a rapid cross-fade, then extended the selection to the right fare enough to create the patch.
Doing this manually would require multiple steps, but with EZ-Patch all that is needed is to select, then click OK.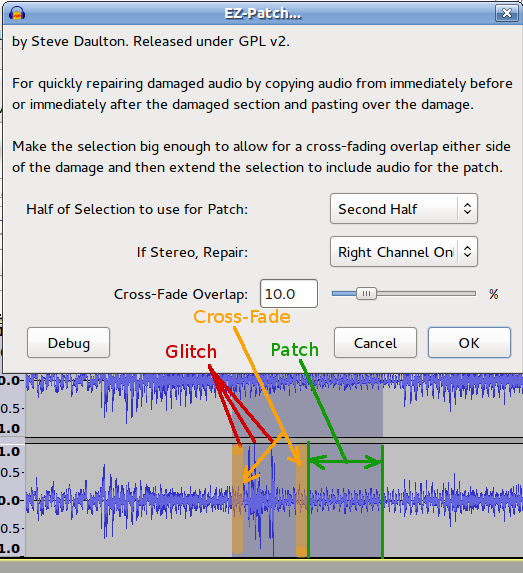 and the result:


And here's the before and after: