Just very recently the FM stereo tuner and its aerial that I use to capture BBC FM brodacasts off-air has developed some noise in its signal. I am presuming that this is something to do with the kit resolving (or otherwise) the stereo signal because if I switch the tuner to mono the noise disappears (but of course I am stuck then with a mono signal). Here is an image of the spectral analysis of the noise (taken from a quiet, announcerless, period prior to the show), showing a sharp peak at 19 kHz. The same noise is present on R2, R3 and R4 BBC FM.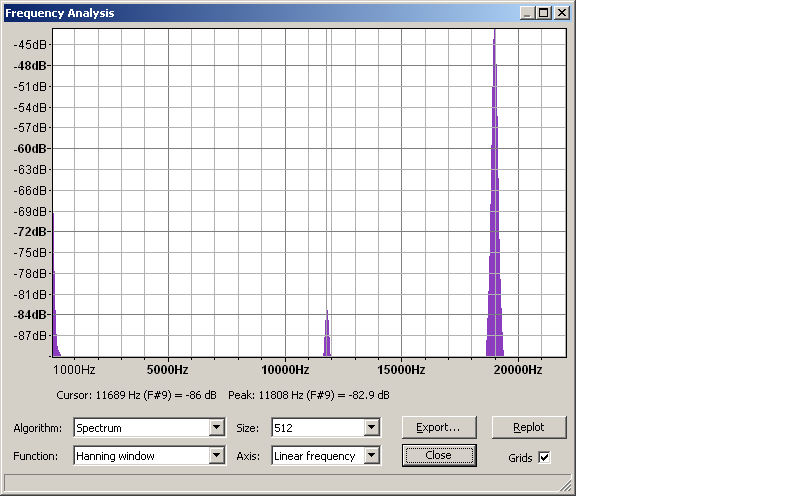 What is the best way to deal with this noise, in Audacity that is - I realize that the real best way is to fix the problem at the source hardware?
I have retained the noise sample in a project and hope to get a good "clean" bit of the noise from R3 later in the week, for future noise removal.
What I have been doing, following on from a tip I seem to remember a while back, is amplifying the noise signal for the sample prior to noise removal on the unamplified signal. Using the default NR settings the unamplified NR still left some audible chirping in the signal. A 10 dB amplification removed the chirping, but also left the signal a little flat. With some experimentation I settled on 7 dB as a good compromise. I do realize tha amplifying the "noise" also amplifies the floor, so I will lose a bit of wanted signal across the spectrum.
So my question is: is what I am doing good practice, or should I rather be experimenting with the settings in NR? If so are there any recommendations for NR settings that would work well with the noise profile I have?
Thanks,
WC