Split from http://forum.audacityteam.org/viewtopic.php?f=46&t=84891
Please help us by saying exactly which plugins have a problem, and telling us exactly what the error message says. Are you seeing a message like this in High Pass Filter and Low Pass Filter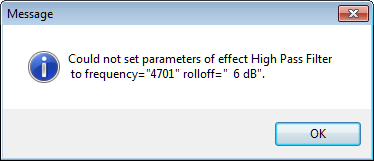 Those are the only Nyquist plugins that I find a problem with. It happens if Audacity runs in any language other than English, either if I change language in Audacity Preferences, or leave the language in Audacity Preferences set to "System" but change the Windows Region and Format language.
The message appears translated into the language that is set, so that translation must be coming from wxWidgets translations.
If you just OK the message, High Pass or Low Pass will open and as far as I can tell the effect will apply normally.
If I change language back to English the message persists, this time displaying in English. Restarting Audacity does not stop the message appearing. To stop the message appearing you can quit Audacity then delete audacity.cfg or pluginsettings.cfg. Alternatively if Windows Region and Language is set to English, set the language in Audacity Preferences to "System" and the message will disappear.
Sometimes, but not always, Generate > Tone produces similar messages when Audacity is not running in English.
I also notice that when the Audacity language is changed to other than English, the name of the "Delay" effect in the Effect menu becomes translated - again it must be pulling that translation from wxWidgets.
I have only tested this on Windows.
Gale