Attached are Audacity screenshots of spectrum plots of a 5 second segment of a 1979 recording of Spyro Gyra's "End Of Romanticism" aiff file from the 1996 remastered "Morning Dance" album on Amherst label, the time I bought my copy. From the spectrum plot of the unedited original wave form would you say that is a professional or quality remastering job?
It sounds thin, flat, high pitched with very little bass on every device I play it on except on my old home stereo with large box speakers where I have to severely EQ the treble/bass adjusts. Note the extraneous data representing highlights from snare drum and cymbal hits between 10K to 20K Hz. That's ridiculous! A negative adjust of -1.5 semitone pitch in Audacity's "Change Pitch…" fixes it.
Would you say that is an indication of poor recording or remastering? I'm at a loss.
What's even more depressing is that Discog lists over ten re-issues on various labels of this CD starting from the first 1985 pressing. There are now two remastered versions (see YouTube links of this song), the one I have and the Amazon mp3 samples (which have a beefed up bass response) but which CD to buy that has the improved sound is impossible to determine.
Version of 1996 remastering representing the 5 second spectrum plot segment (lacking bass)…
https://youtu.be/kmL4roR9eZ0?t=240
This has the improved bass sound…
https://youtu.be/Ag5FVRw98Bg?t=240
The spectrum plot of the original vs my Audacity edits representing improved sound…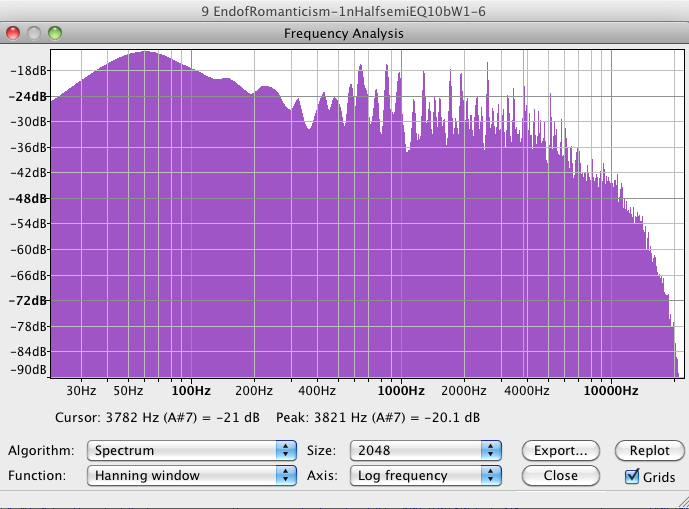 Audacity Wave Stats… measures my edited version at around -13db RMS, the original -18db. It sounds a whole lot better listening on my Sony headphones even better than the improved Amazon mp3.
Does my edited version going by the plot spectrum break any sound engineering quality standard rules?
Thanks for your thoughts on this.