I'm using Windows 10 Pro 18363.836
Audacity 2.3.3r worked but Audacity 2.4.1 doesn't work.
When opening Audacity 2.4.1 it shows a window with the title "Error Initializing Audio" with the description:
"Could not find any audio devices.
You will not be able to play or record audio.
Error: Internal PortAudio error"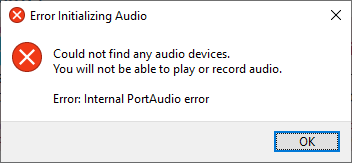 I tried reinstalling and resetting the preferences through the installer of 2.4.1. I reinstalled 2.3.3r and it works like a charm. For testing purposes I reinstalled the "broken" Audacity 2.4.1.