Hey all,
I have been recording for Librivox for a couple of months now, and decided that I'd take a stab at ACX. I was very skeptical that my setup would be capable of meeting their noise floor requirements as I live in an apartment (ew), and own an old Blue Yeti (also ew). But today I ran ACX Check over some of my raw recordings, and it is telling me that they pass the technical requirements, as pictured below: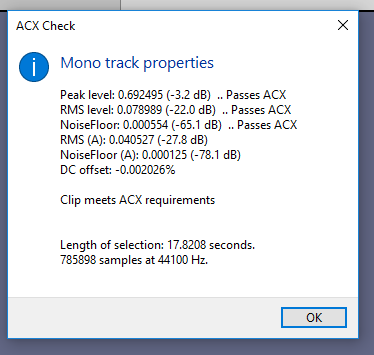 Out of curiosity, I then ran Mosquito Killer over the recording (to banish the Blue Yeti curse) and equalized it with a lightly modified version of Low Rolloff for Speech. This also passed, even more clearly this time:

Here are my specifications:
Audacity Version: 2.3.2
Exported on Windows 10 Pro w/ Audacity
Recorded w/ Blue Yeti USB (Not Pro)
Recorded onto an Android Tablet (Lenovo Tab 8) via an OTG Cable + Audio Evolution Mobile Suite
Recorded in a walk-in closet with a homemade mic box
Could I get a second opinion on the recordings? Do they actually meet the noise floor requirements? I am baffled as to how I am passing when I am using low end equipment. I don't want to start trying to do ACX only to have to revamp my entire setup partway through because ACX Check had a slight bug or something.
If you actually read this monstrosity, thank you and I appreciate all of the hard work done on these forums.
~Buswheels