Hello,
I would like to share this Dereverb plugin (created in Audacity 2.4.2, tested also on 3.2). Basically, this is a multi-band gate with an option to fine-tune the threshold and the reverb reduction for every frequency band. The gate thresholds are automatically "guessed" based on the rms of the respective frequency bands. Combination of the guessed thresholds creates a precise reverb profile. This eliminates manual tweaking. The profile can be fine-tuned by (overall) Sensitivity plus by Threshold Offset for every frequency band separately if needed.
In most cases, it should be enough to control the plugin with Sensitivity and Reverb Reduction. Additionally, try to enable Expert mode and to adjust Release, High-mid and Low-mid Reduction.
Any feedback is welcomed!
Thank you!
Attention: The plug-in processes only MONO signal. It does not work for stereo signal.
When you download and test this plug-in, please post your feedback (positive or negative) or a suggestion to this thread. You can also send me an email: jozefhalaga@gmail.com. This is important for the further development.
Dereverb.ny (5.58 KB)
(NEW version n.7; uploaded October 12, 2022)
What is new: Few minor improvements.
Older versions:
Dereverb.ny (5.54 KB)
(Version n.6; uploaded October 10, 2022)
What is new: Limit for selection is raised up to 2 hours and 25 minutes (for 48000Hz).
Dereverb.ny (5.66 KB)
(Version n.5; uploaded October 7, 2022)
Dereverb.ny
(6.43 KiB) Downloaded 294 times
(Version n.4; uploaded August 16, 2022)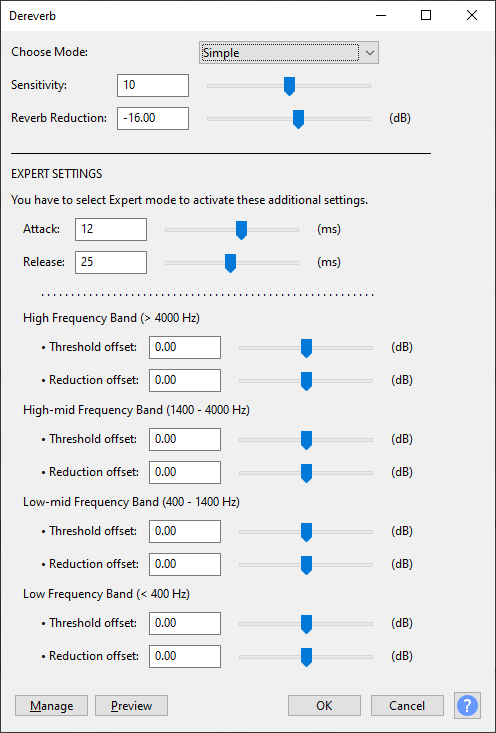 (Search strings: remove echo, reduce echo, remove an echo, reduce room echo, reduce reverb, reduce room reverb, remove reverberation)