This is a spinoff from the "bigger fonts" thread. Personally, I'm not really happy with the experimental Themeing so for my own personal version of Audacity I have started adding the ability to configure some of the GUI. I am most interested in fonts and specific interface item colors. Obviously, this will require some kind of an interface for the user's preferences; here is what mine looks like so far: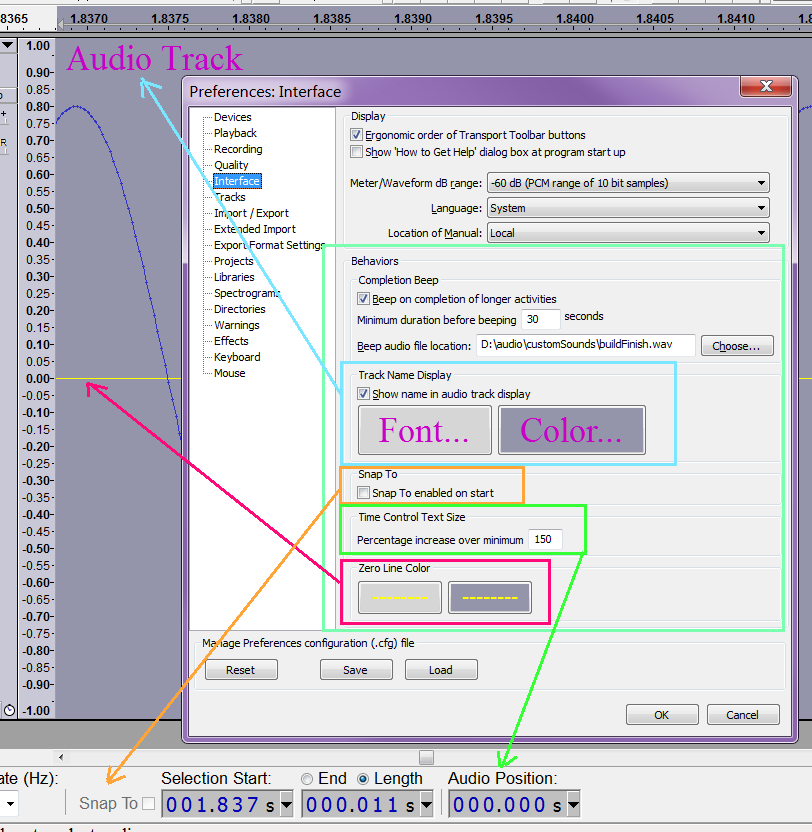 I have added a new section (see the bright green box) to the "Interface" page; currently there are five sets of controls (eventually I will do a better job of rearranging these into appropriately labeled sections). The first set of controls exposes the existing ability to play a custom "Beep" at the end of time-consuming operations.
The next set of controls (see the bright blue box and arrow) allows the user to modify the font (family, size and color) of the text display of the track name in the waveform track panel; I have also expanded this text display ability to all the other things which might be drawn in a track panel (MIDI, spectrogram etc.).
Next comes a control (see the orange box and arrow) which allows the user to toggle the "Snap To" control so that it is disabled (or not) at startup. Since the "Snap To" behavior can also be controlled via keyboard shortcuts, this on screen widget is not absolutely required.
Next is a control (see the green box and arrow) which allows the user to adjust the font size in the Selection toolbar and all Time Text Controls; since there are a number of different fonts used in this toolbar I went with a percentage of the current default (which is defined in the code as a "minimum" and is nine points). If …the user sets this to 100 the default behavior will be maintained, larger values will result in bigger fonts and a taller Selection toolbar (I have not tested with values smaller than 100 – that is left as an exercise for the student).
Finally there is a pair of controls (both of which perform the same identical function; see the red box and arrow) which allows the user to change the color of the "zero" line which is drawn in the waveform.
I realize that this is a bit clunky and offered only as a proof of concept.