Here's my De-Ess suggested settings for using Paul-L DeEssing tool on that "resist the temptation" track …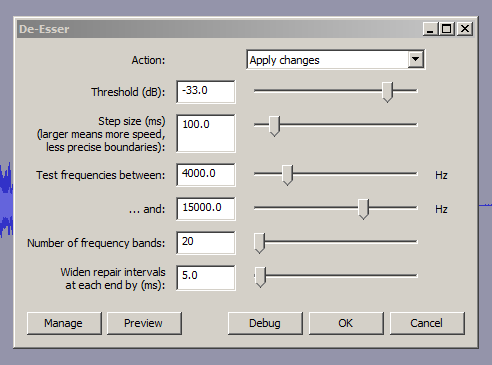 The threshold setting on Paul-L's DeEsser is critical, as it is a hard "brickwall" limiter.
I lower threshold setting in 1dB steps until it's audibly* taking too-much off, then raise the threshold by 1 or 2 dB above that too-much setting.
[ * it's also visible on spectrogram when too-much sibilance has been removed, when visually comparing it with normal sibilance ].
BTW
There is a mouth-quelch noise between the S&T of "resist" . I had a go removing that mouth-noise with the equalizer, Audacity's new spectral editing tools would do a similar removal job , but I've yet learn how to use them.