hi all, new to this forum and to the audacity software.
context: im recording airplane sounds that go over my home using a digital recorder to track frequency of airplanes that go over my home (i live 20+ miles away from the airport and i have no idea why i have planes going over my home every 5-10min for the majority of the hours from 7am-12am, well, i do but it makes no sense and it's still bonkers!). also using this dBSPL reader to get dB readings.
i'm trying to understand how to read the waveform dB in audacity, and I cannot for the life of me understand how to read this. i've tried scouring this forum and just googling, and wat i did get is that the waveform db in audacity is relative/a ratio and it does not provide dBSPL. beyond that, i do not understand.

my goal: i would like to understand the waveform DB. my sound decibel reader is very buggy and doesn't always record. but the recordings i do have, i wanted to see if i could correlate to the waveform dB measurements, and then calculate the dbSPL for all the other waveform DB points. so then i'm thinking i need to figure out:
truly understand the waveform DB that audacity generates.
is there a way to export the RMS and max peak point of every second in an audio file from the waveform that audacity generates? I understand that the waveform is essentially many pixels generated/averaged for any point in time, but I'm just looking for the peak pixel value and the RMS at every second. wondering if this also might be a good way to log plane activity without physically going thru the audio files and identifying planes by waveform patterns (need a more programmatic way of identifying planes). altho, i do have some loud ass birds in my backyard (prefer the birds over the planes, 100%) that may cause false positives if i went down the every-second route? granted the birds are much closer to the recorder than the actual plane. see birb chirp image below.
once i have that, could i correlate the dBSPL measurements i got from the sound meter to the audacity waveform data, and then calculate all the other times (reverse engineer) when the sound meter recording did not work. i've been placing the recorder and sound meter in the same position, whenever i record, so trying to reduce external confounding factors…
Here are two examples. First one i had a sound meter reading. Second one, i did not. The third is birb chirps and trills. These planes are freaking loud and clock in >65decibels at the loudest. i dont even live next to the airport!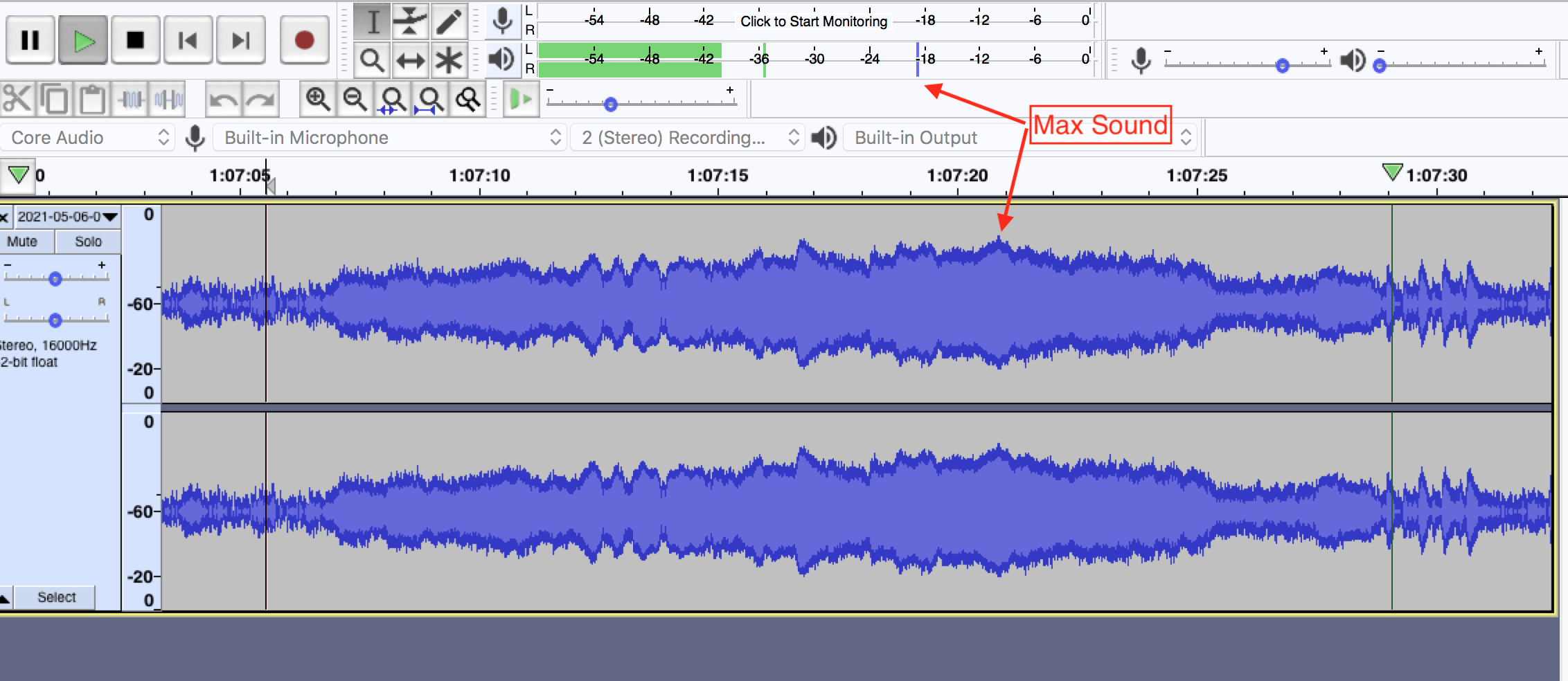 anyone willing to spend time and help me understand waveform DB and if i can possibly do this correlation? let me know if i need to clarify anything.
many thanks!