I'M TRYING TO DELETE THE BEGINNIG AND ENDING DIALOGUE PARTS OF AN AUDIO FILE,
AND PRESERVING ONLY THE SONG INFORMATION.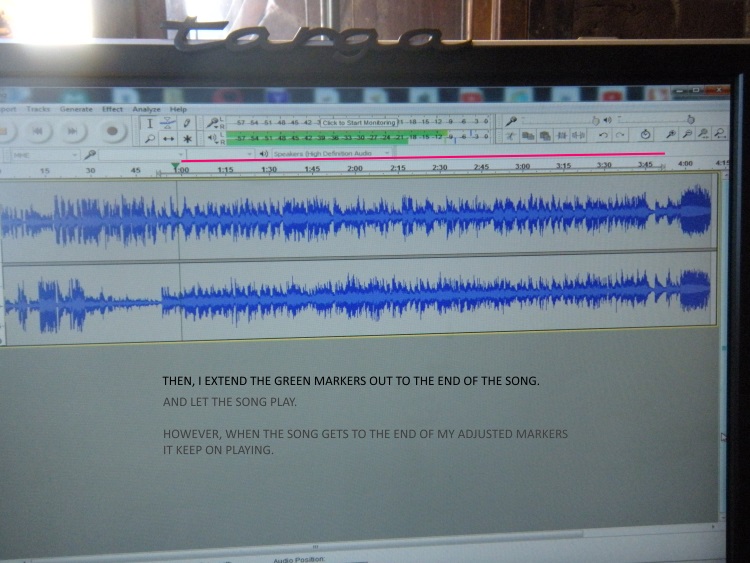 Play, scan or zoom to the two places you want to mark (Audacity doesn't have Edit Markers) place a label there.
Audacity labels are sticky or magnetic. When you mouse over them, the cursor sticks and makes drag-selecting easy. If they aren't in exactly in the right places, you can move the labels around.
After you drag-select the work you want using the sticky labels, File > Export Selected Audio.
Kzo
Please avoid typing all in CAPS.
Two other methods in addition to koz's suggestion.
Click with left mouse button on the blue waveform at the start of the audio that you want to keep, and while holding down the mouse button, drag to the start of the track.
This will highlight the first audio that you want to remove.
Press the DEL key.
Scroll to the end of the track.
Click on the waveform at the end of the audio that you want to keep and drag to (or beyond) the end of the track.
This will highlight the second audio that you want to remove.
Press the DEL key.
File menu > Export.
Follow these instruction to complete the export: Audacity Manual
Another method:
Zoom in close enough to see both the start and end of the audio that you wish to keep (Audacity Manual)
Select the audio that you want to keep.
Ctrl+T (or "Edit > Remove Special > Trim Audio")
Export
See also: Audacity Manual