Hi, I am having an issue with track 1 (melody) being recorded on track 2 (drums).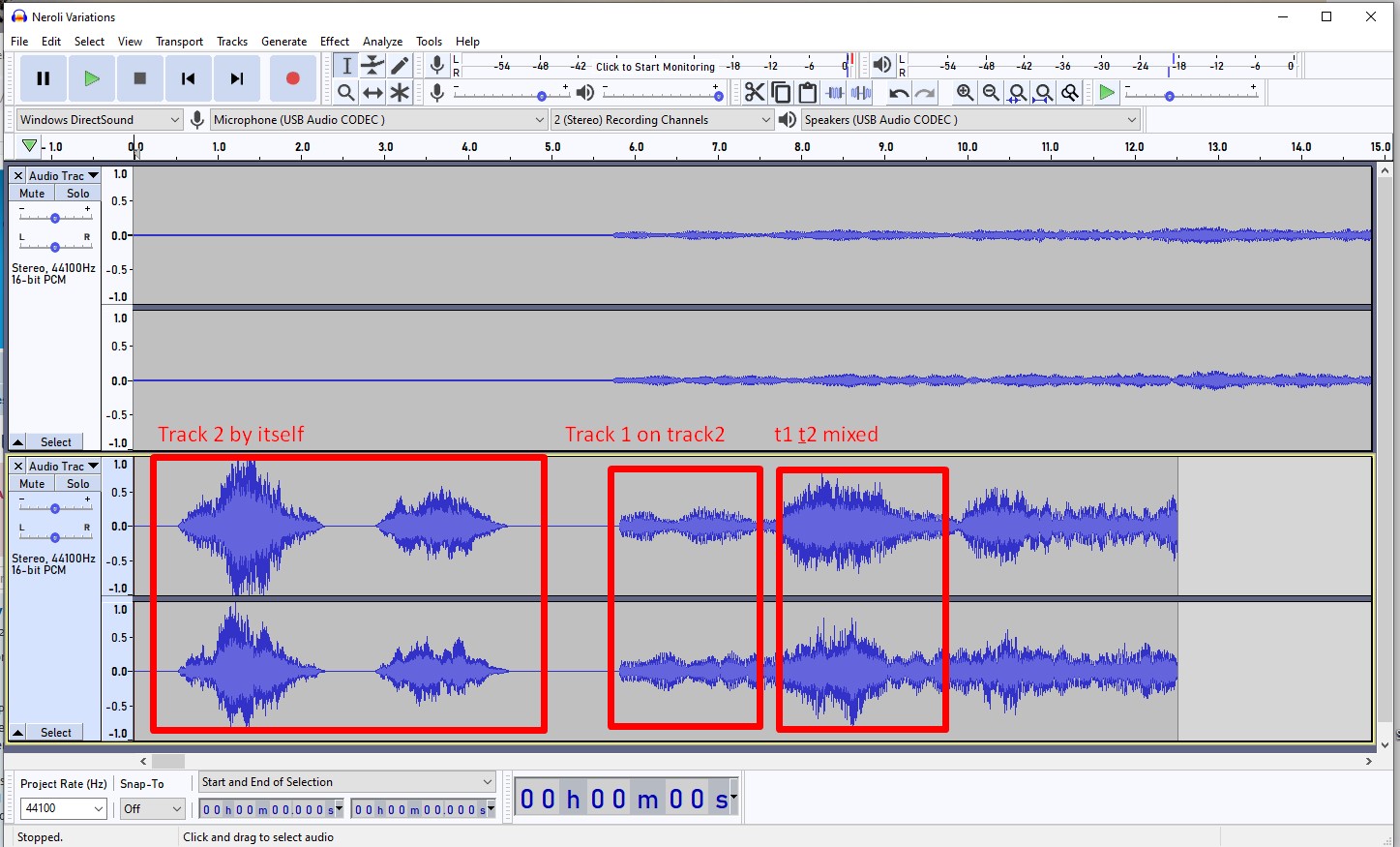 So far there are two stereo track. Track 1 (melody) and track 2 (drums)
In this screenshot you can see track 2 (drums) are recorded in the first red box in the screenshot. When track 1 (melody) kicks in, it also records to the drum track 2. That's basically it. I wish to monitor track 1 while performing track 2 so they synch correctly. Is there a way to monitor track 1 without it recording over track 2?
I suspect it is my USB mixer. I use a Behringer Q502USB mixer. I am not using a microphone. I have a Korg Minilogue synth plugged directly into the mixer, left and right channels in a stereo configuration. The mixer sends the data to a Windows 10 PC and Audacity.
I am monitoring this recording using a pair of Beyerdymanic DT250 headphones plugged into the USB mixing board. There are two monitoring buttons, To Phones and Main Mix. No combinations of setting for these buttons works, either there is no sound or track 1 records on track 2.
So I figured I needed to change the "speaker" output to something other than the USB mixing board. I used a FIIO Alpen DAC/headphone amp, made that the only playback device in Windows Sound Control Panel, then set Audacity "Speaker" output to the FIIO DAC. It worked to an extent. I can hear track one but I cannot monitor track 2.
This recording is a pure performance. I play the keyboard directly, no MIDI, no sequencing. While performing I change the effects parameters, reverb, delay, attack, effects depth and time, bend notes with the joystick, manually fade in and out with the Minilogue volume control. This is basically my workflow. At the end I might apply a little compression using software for mastering but all effects are done in real time utilizing the onboard digital effects library on the Minilogue synth. It is a very simple workflow that is right for me.
All I need is a simple DAW like Audacity to support multitracking. That's it. No effects busses, no sequencer, very simple stuff. I've been troubleshooting this for hours without luck. Please offer any advice you have for me how to make this work.