Audacity 2.1.3.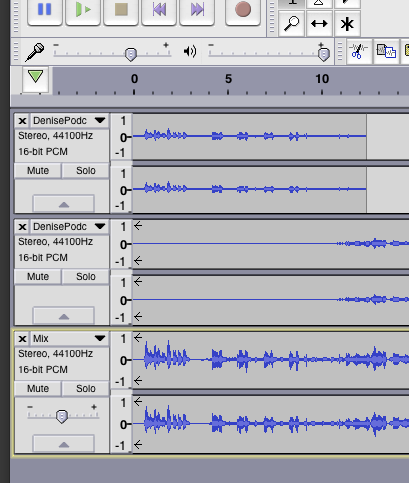 The top two stereo tracks have been rendered to the third track. The goal is to produce a beat-matched overlap and shorten a musical segment. I did it by Time Shifting the second track to the left and a little skulduggery with fades. The track 2 area before the transition has been silenced with Command-L. It worked way better than I thought it was going to.
I changed the third track volume a bit and File > Export Selected.
I got my performance plus the shoved to the left silent time from track 2. Good thing I check these things before they go out the door.
I see Audacity and its arrows trying to tell me it might do that. Fair enough—we can chat about that. How do I export the track I hear, not the track with the formerly hidden silent segment?
Koz