Hello
I've used Audacity for several years on and off for very simple processing to make my own ringtones and have usually been able to solve problems with the use of the excellent online help file. But this time I'm stumped and so registered here at the forum. So this is my first post.
I recorded a tone from my Apple Watch using Voice Memos on my iPhone. I know, not the best solution but I managed to get a fairly clean recording, which I further cleaned up by using the Noise Reduction filter and by adding silence between the beeps. The beeps are simple Morse code, long, short, short, long. Here is the recording, exported as mp3.


Strangely enough I hear a sort of clicking or popping sound in the short beeps, but I don't see any spike or such in the waveform. I copied and pasted one of the beeps over the other so both short beeps are identical and look like this: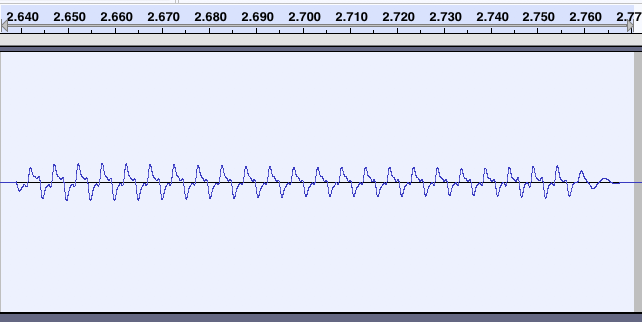 Is it a simple case of garbage in garbage out and that I should try to re-record, or is there some way to find out where in the waveform the offending sound is?
I looked in the forum rules and didn't see anything forbidding uploading such a recording so I hope I'm not breaching any rules, but do feel free to let me know of course.
Thank you kindly in advance
Philip