Hi all,
I'm currently working on my master's thesis which involves sending and receiving sinusoids. For a test case, I've generated a sound consisting of the first 24 harmonics of a tone with fundamental frequency 440Hz. All harmonics have the same amplitude. The corresponding magnitude spectrum looks like follows:


My problem is that if I send the signal through a loudspeaker to a microphone, the sinusoids in the received signal show very different attenuations which I can't explain myself. At first I observed these results with custom software written for my master's thesis, but as it turns out the observations can also be reproduced with standard Linux tools. Even if I send the signal as a Wave file via aplay (from alsa-utils) and then record it with audacity, I get basically the same odd results.
My only expectation for the test was that higher frequencies might get stronger attenuated over distance than lower frequencies. But the attenuation I've observed seems to be pretty random to me. Here's the spectrum when I send the signal through my notebook loudspeaker and receive it with my Zoom H2:


The envelope looks almost like the back of a camel and consists of two lobes centered around the 11th harmonic at 4840Hz.
I've tried another microphone (a very old and noisy one) and get the same characteristics as previously described.
After that, I've used a desktop loudspeaker instead, and the Zoom H2 gives me the following magnitude spectrum if it is placed in front of the speaker at a distance of 50cm: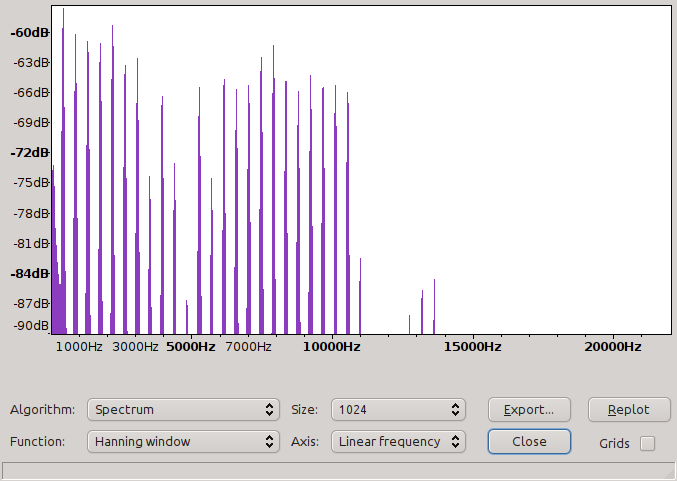 Well, this doesn't look as bad as the previous ones, but I can still observe that some harmonics get drastically attenuated while other have an extremly high amplitude compared to the rest.
Even more mysterious, if I increase the distance between the loudspeaker and the H2, the attenuation of the frequencies changes each time in another way…
To prevent measurement errors, I've made sure to send the mono signal only through one of the loudspeakers, and I've also deactivated every option from the Zoom H2 which might influence the result (e.g. compressor, monomix, lo-cut, …)
Using the H2 as a stand-alone recorder or as a microphone via USB doesn't seem to make a difference.
So to cut a long story short, I don't understand why I see so different forms of attenuation.
I've seen that different loudspeakers (notebook or desktop) can influence the outcome, while switching the microphone hasn't yielded any changes in my experiments.
But I don't understand why different distances show so different results.
Are the observations I've made supposed to be normal, or am I overlooking an important aspect in my setup?
Does anybody have an idea why attenuation behaves so different (even on a direct line between loudspeaker and microphone) or maybe a buzzword which I can search for in the literature?
Thanks for any hint a can get on this topic!