As Robert pointed out recently, the Click Track generator has "many" controls. This is particularly inconvenient for non-mouse users form whom it takes 24 clicks to cycle through the full set of controls.
There have also been occasional complaints about the lack of "musical" click sounds (a "Conga" type sound is frequently favoured in other metronome type applications).
I'm reluctant to remove existing functionality, though I think that the optional duration (minutes seconds) could probably be removed - this option has always been and remains problematic due to:
a) Inability for Nyquist to handle localized decimal separators in string type widgets.
b) Inability for Nyquist to grey out controls, so "optional" items are always a bodge.
c) Ambiguity of "minutes seconds" text format.
d) Duplication of "duration" control which is already defined by the number of measures.
I think that we could safely remove the "Individual click duration (milliseconds)" if we provide a better selection of click tones.
The number of clicks to navigate the controls can also be dramatically decreased by using the new numeric text widgets in place of the old slider widgets.
This is what I have in mind so far:
;control bpm "Beats per minute (1 - 1000 bpm)" float-text "" 120 1 1000
;control t-sig "Beats per measure (1 - 32 beats / bar)" int-text "" 4 1 32
;control measures "Number of measures (1 - 1000 bars)" int-text "" 8 1 1000
;control start-time "Start time (minutes seconds)" string "" "0" 
;control timbre "Click type" choice "Ping,Tick,Click,Conga,Beep,Drum" 0
;control accent "Accent strong beat (0 - 100)" int-text "" 50 0 100
;control pitch "Strong beat tuning (+/- 24 semitones)" float-text "" 0 -24 24
;control pitch "Weak beat tuning (+/- 24 semitones)" float-text "" 0 -24 24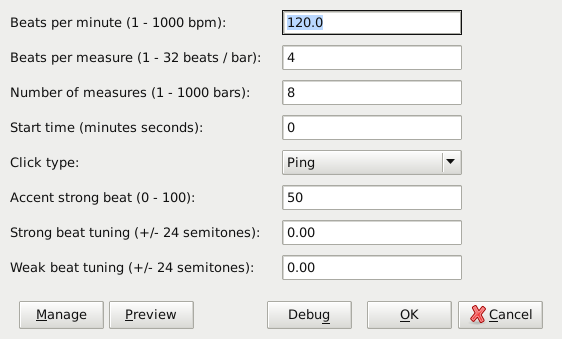 I think that this interface preserves just about all of the old functionality, while improving on several features, simplifying usage, and reducing the total number of clicks to navigate the controls from 24 to 13.
When available I would also like to replace the "start time" with a "time widget" (we don't yet have time widgets for Nyquist plug-ins).
Also, "Start time" will be the actual start time if there is no selection. If there is an existing selection, then "Start time" must (unfortunately) be relative to the start of the selection because it is not currently possible to generate audio before the start of the selection. I would prefer (for clarity) that the start time was always an absolute time, but that is not currently possible for Nyquist generate plug-ins. For now it may be better to call that "Start time offset".