This screenshot is a section of the Audacity 3.3.3 (Linux) interface with the same waveform loaded twice. The only difference is that the upper copy is muted, where the lower is not. "Show Clipping" is enabled.
As you can see, the track muting makes the "Show Clipping" lines virtually invisible. They're still there, but when muted their medium gray coloring effectively disappears into the waveform itself.
My question is, does it make sense to gray out the clipping lines as well, when muting a track? Or should they remain red, since the clipping is still there, in the waveform?
It's often easier to discuss visual changes when we can actually see the results, and don't have to rely on imagination. So here's a mockup of what that would look like, courtesy of the GIMP: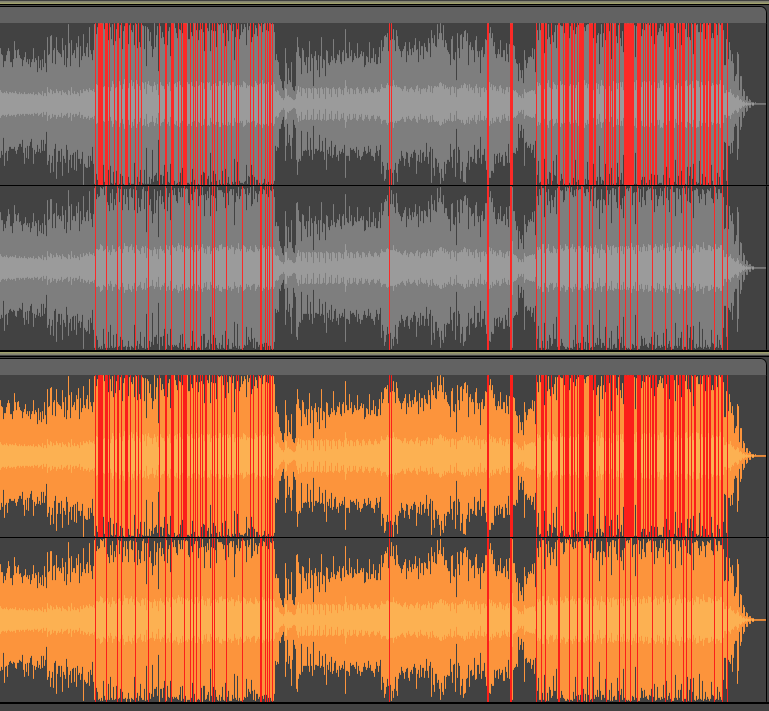 (Note: It's possible there are technical barriers to implementing this. I certainly concede that just desaturating the entire track image is simpler than redrawing it with red clipping lines over a desaturated waveform. So, I'll tack a "modulo feasibility" onto this as well.)