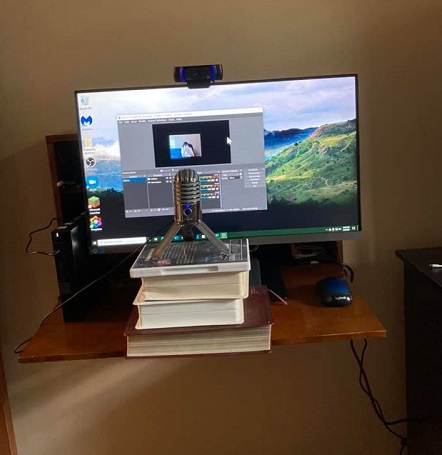 I am going to need more help than I originally thought! I'll get to the headache part, shortly.
First, the photo is my podcast setup. I am the owner of a blog site called [Advertising removed]. Alone with my blog post, I record an audio podcast to go with what I wrote. I don't repeat exactly what I wrote and will make references when needed. Yes, I do record my podcast in OBS Studio since it's easy to turn on record and switch to my blog post and notes on the same PC. I'll bring the finished video into Audacity and run it through post processing and convert it to .MP3.
Things come up, as it always does! I'm now getting back into the swing of thing and need to stream line the process of creating content. It has been a while and it seems Audacity had undergone some unexpected changes. Now, I can't bring in an .mp4 file or any other file format. Even worse, I'm told that I can't export to .MP3. What??
I just found this out because I wanted to upload a test audio so you can hear my current audio quality. I was going to ask about filters and how I can stream line the process and not record in one app and switch over to another one. I just did a quick and dirty recording in Zoom. I don't know off hand the mic setting. I'm using a Samson Meteo USB Mic. I used the same setup seen in the photo; except I used Zoom.
I'd love to hear your input on what I can do. Thank you.