Hi Steve,
Several (related) questions about the scratch variable:
What is it's lifetime, i.e. is it "alive" as long as one or more instances of Audacity is open?

Can it hold only audio data or an array of text?

Can I append data to scratch and not just overwrite existing data?

If the above are possible, could I for example do this, all in the same instance of Audacity:
4a) Apply a ny plugin to a track that adds text data to scratch.
(That text could be for example the peak value of the track).
4b) Apply the same plugin to another track and append that data to scratch.
4c) Rinse and repeat, then,
4d) Say on the third track, append yet more data, but, also save the data in scratch to a file
so that all the data written will be from all the times the plugin was called, assuming of course
Audacity was not closed in between.
So for example something like the below (just a rough drawing to better illustrate what I mean):
If just the append option is selected, then it only appends to scratch.
If both are selected, it will append and then save it to a file.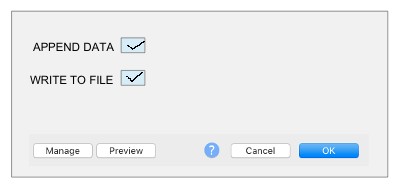 I know that Nyquist has very limited support for file browsing, so a hardcoded path and file name is OK.
TIA