I noticed this on 2.3.3 but just installed 2.4.2.
I admit I'm a newbie to the forum but I've been using Audacity for a couple years.
I had a multitrack audio going, all mono tracks. I had the note shown on top, and I wanted to select it, and fully replace the note on the bottom, without changing the length of the track. (I had a pic here but it looks like there is a limit of 4 attachments. It looks just like the one below only not selected.)
The notes are, in fact different lengths. And even start at different times. I want the top note exactly where it is, but duplicated in the bottom track. I select the top note.



I can see that the selection is .249 secs long and where it ends (I'd rather see where it begins, but that's another issue.)


I can select APPROXIMATELY the right space in the bottom track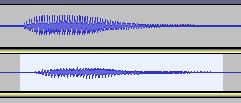 But now I have to go fiddle with the numbers in the meter to make it exact.


What I'd really like to do is a drag and drop to copy the note to the 2nd track. Is that possible? Or set the cursor to the correct spot and Ctl V?
I got it done by fiddling with the meter (see above), but it seems so in-elegant for a feature-rich program like this. Tell me I'm just not looking in the right place in the manual or there's an easter egg out there with my name on it.
Thanks!