I think your studio is fine. I applied Audiobook Mastering (which fails) and then slightly stiff Noise Reduction of 8, 6, 6.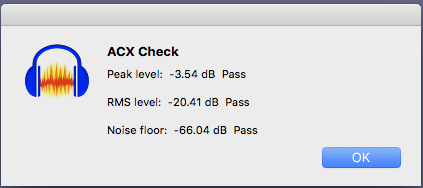 I sometimes tell people to read that like they're trying to sell me milk. It makes zero difference to the analysis, but it makes my right-brain creative side feel good. Also, since you're a performer now, you need to be able to slap back and forth between different theatrical presentations. There was one forum poster that only had one theatrical "speed," and couldn't change it. They're doomed, although we didn't say so.
That's the good news.
Your microphone or recording system likes being bright and crisp, some would say sharp and gritty. I suspect that's where your background noise, that sssssss leaking air sound is coming from. Some home microphones sell that as a "professional sound." It makes my ears hurt.
It also accentuates mouth noises and some paper and clothing sounds. You might find if your microphone didn't do that, you would have a lot fewer patching and corrections to do.
So how are you recording your voice? What's the microphone and how is it connected?


I took some of that out as a test.

Koz