Does anyone know of an Audacity plug-in to convert audio to text.
Thanks.
If you mean "speech recognition", there isn't an Audacity plug-in to do that.
Perhaps something like "Dragon Naturally Speaking"?
Thanks for replying.
Yes converting a dictation file or audio notes to a text file or Word document.
Dragon Dictation (Naturally Speaking) and other tools that work fairly well generally cost over $100. Dragon Dictate is $179.00. I was hoping to find a tool that is less than $50 or free.
Speech recognition is very difficult to do. Both Dragon and Microsoft have spent vast resources in getting it to its current state and have their code tightly wrapped up in patents.
There is a summary of the current/recent state of speech recognition open source software here: http://en.wikipedia.org/wiki/Speech_recognition_in_Linux
Some old SoundBlaster sound cards (such as the old AWE32) were originally bundled with a basic speech recognition application, though even if you are able to find a copy it will probably require Windows 3.1 or Windows 98.
Agree, it is a very challenging data processing technique. Thanks for the info.
Windows Vista comes with speech recognition …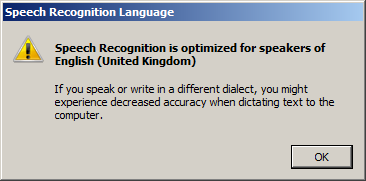 It's in "Ease of access" in "Accessories", (I've never used it).