All,
I'm using Audacity 2.2.2 on MacOS (for recording using a MacBookPro) and Windows 10 for the audiofile editing (bigger monitor).
I have a digitized vinyl LP with odd low-energy (not low frequency) distortion (or whatever it is) in the audio file (this is the only audio file with this distortion of the six that were made from a boxed set of Isaac Stern playing violin concertos–so I don't think the recording process was amiss). This "distortion" is clearly audible, but not visible in the waveform view of the audio. It is, however, unmistakable in the spectrum view of the audio: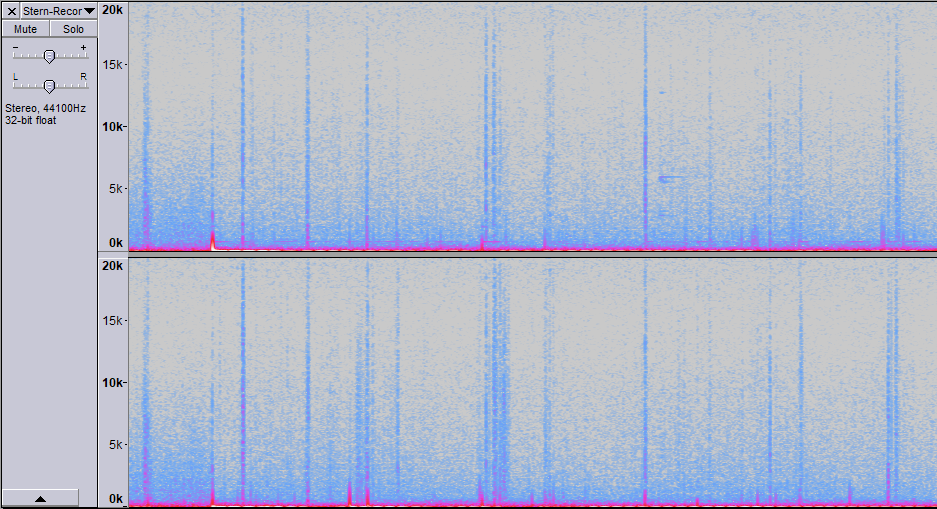 This uploaded image is from the beginning of the LP and there is little music playing as yet. But even when the music volume increases, these transient distortions remain audible, though, of course, less intrusive. These distortion spikes no longer happen by 8 minutes into the audio file. Something was on the vinyl (not visible, I might add, I cleaned the LPs quite thoroughly, but not well enough to remove whatever caused this distortion).
Question then is, how can I diminish this distortion? I have used ClickRepair on this file, then in Audacity Click Removal and Noise Removal. All did something, but none did anything to this distortion.
Typically the distortion extends, as one can see in the image, across the frequency spectrum from 10Hz to 20kHz, though not always. Because of this my attempts to use band pass filters have produced no positive results (because this is not isolated to low-frequency or high-frequency audio). Knowing that the spectrum view maps frequency against time with the energy/amplitude of the signal color-coded, I was thinking that if I could reduce the energy/amplitude (?) of the audio at these moments the distortion might fall to inaudible levels. But how might I do that? What other kinds of filters or manipulation can one do?
I tried using Amplify with a negative value, e.g., -12, but for some reason this introduces artifacts - after applying the Effect the right or left edge of the selection has a short temporal region with an Increased amplitude. Very odd behavior. This occurs whether I select a little or a lot of the audio, so I conclude it must be the effect and that it should not be used as I'm attempting to use it. Using various types of EQ effects do not uniformly affect the entire selected region.
All comments and suggestions much appreciated.
Regards.