Guys
If ACX test pass can noise floor be above standards meaning if its -87.43 DB is that ok?
That's almost impossible for a regular microphone or interface. How did you get that?
ACX-Check flagged it, right?
Koz
No ACX-check it passed it. Are you saying its too quiet?
I'm saying it's right on the edge. If you insert Generate > Silence into your show, you almost certainly will get a violation (ignore the peak reading).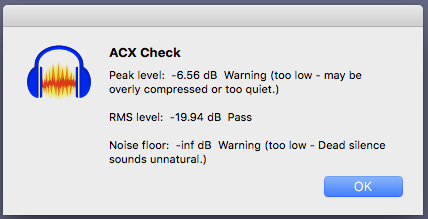 So to fold this back to the top. How did you get that number? That's not natural and stiff Noise Reduction can cause distortion.
Koz
I simply followed the procedures, in doing so I used a combination of :
Normalize
Limiter
Loudness Normalization
GraphicEQ
Noise Reduction
I dont recall the sequence of applying each effect, perhaps that's what did it.
How to record an audiobook.
We publish some tools that may make recording an audiobook easier. See bottom of post.
A healthy portion of the forum Q&A is getting those first three sentences to work.
–
Record a single mono chapter (one blue wave) in a quiet, echo-free room. File > Export > Export As WAV a protection WAV file (errors and all). Edit out the performance mistakes — lipsmacking, tongue-ticking, gasping, coughing, English errors. Make it smooth. If the chapter is too beat up, you'll be reading it again.
Tools > Apply Macro > Audiobook-Mastering-Macro.
Analyze > ACX Check.
Peak (Quieter than -3dB) and RMS (Loudness between -18dB and -23dB) are guaranteed by the Audiobook Mastering Macro.
If your noise is quieter than -60dB but it's close (-65dB??), apply Noise Reduction of the Beast like this.
– Select a portion of "clean" background sound > Effect > Noise Reduction > Profile.
– Select the whole chapter > Effect > Noise Reduction > 6, 6, 6 > OK.
Analyze > ACX Check.
File > Export > Export As WAV an Edit Master WAV file of the chapter. Only Then File > Export > Export as MP3 > 192 Constant-Quality MP3 for submission to ACX. Once you make the MP3, it can't be changed.
Go on to the next chapter.
–
Custom Tools & Notes
– Audiobook Mastering Macro –
– ACX-Check –
– ACX Audio Submission Requirements –
https://www.acx.com/help/acx-audio-submission-requirements/201456300
Koz
REV01
-68.43dB.
Quite a difference between that and -87dB—your number. In the land of dB, sound doubles every 6, so the background noise doubled or halved three times. That screams a non-standard sound channel, like bad settings, odd effects, or a software package trying to "help you."
Koz
A word on the Audiobook Mastering Macro. It is a text file, so computers keep trying to interpret it as an English Document instead of a computer program. You may see it as
Audiobook-Mastering-Macro instead of Audiobook-Mastering-Macro.txt which is its real name. Windows may hide the .txt filename extension to "help you."
I force my machines to show filename extensions in Preferences.
Koz
This topic was automatically closed after 30 days. New replies are no longer allowed.