Hello.
I am using Audacity 3.1.3 on Windows 10 and have two questions which I think are related.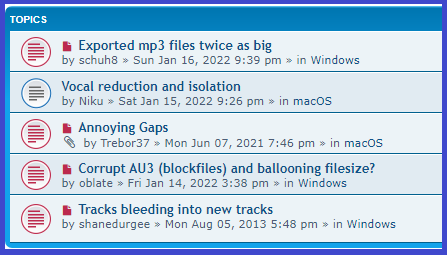 Question (1) Regarding the implementation of phpBB on this web site:-
I have my browser bookmark set to New Posts, but this seems to yield results across all forums, including Mac/OS and GNU-Linux. Is there a way to bookmark so that I see only New Posts from the Windows forum of the site?
Question (2) Regarding the different versions of Audacity and the likely content of the Windows/Mac/GNU-Linux forums:-
Is there value in my reading posts on Audacity topics from other OS? "Vocal reduction" as a topic seems to be something I should inspect as i move into using the many, many features of Audacity 3.1.3 for Windows beyond trimming the ends from audio racks, but if the different OS platforms have significantly different ways of implementing Audacity, then I am not likely to be reading useful data.
Thanks
Chris