I have been using Audacity (3.0.2, Win 10) on another pc and when I went to install it on my new pc (again, 3.0.2, Win 10) I thought I'd be clever and bring the files accross from the old location to the new.
I restarted Audacity and got the following error: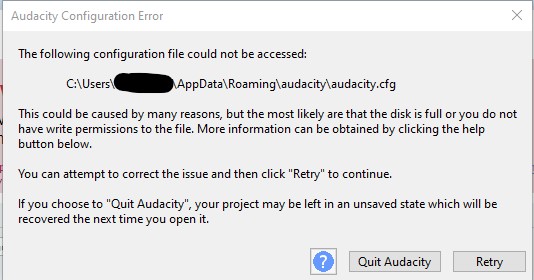 There is plenty of disk and I even went to the lengths of adding the Everyone role to C:\Users as Read/Write.
In doing the copy carelessly (I've only worked in IT in fairly technical roles since 1986, I'm more careless and idiotic by the day it seems), I think something must have got screwed up (especially for the uninstall process) but now, no matter what I do I can't start Audacity.
I have renamed the Roaming Audacity folder, I have searched the Registry and found nothing that references Audacity.cfg, I have uninstalled and reinstalled a good few times, sometimes with a reboot between, sometimes removing the Audacity folder, sometimes using Run As Admininistrator, even though the account I'm using is in the Admins group, so now I'm hoping that someone can save me from myself…
TIA,
Ian