I'm a novice, using Audacity for a project for my kids' homeschool group. Please forgive my ignorance. I have a studio mic with an XLR connector (this one: http://www.pyleaudio.com/sku/pdmic58/professional-moving-coil-dynamic-handheld-microphone).
I have an adapter to make the mic work with the computer (see photo). I have it plugged into the mic input port on the back of the CPU. When recording, we get a tiny waveform, despite input slider dragged all the way up and despite our being plenty close to the mic. We also get a 1000 hz digital-sounding tone in the background of the recording, which of course only gets louder when we run "normalize" in order to help amplify the tiny waveform. The 1000 hz tone only occurs when I use this mic. If I use our webcam mic or the default computer one, the sound quality is poorer but there is no high-pitched tone.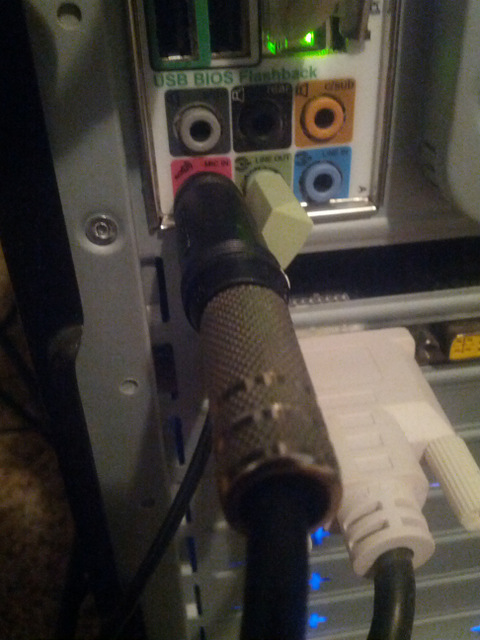 I read about how if you plug a mic with an XLR connector into the line input on your computer, you can have problems with the sound (http://manual.audacityteam.org/o/man/tutorial_connecting_a_microphone.html). But I'm plugged into the mic port, not the line input.
I'm wondering whether some smart person can tell me why I might be getting such a tiny waveform, and why we might be getting that 1000 hz tone. I've attached a piece of the audio.
Thanks much in advance!
Shauna