Hi guys,
I'm playing around with Macros in Audacity 2.4.2. on an iMac running OSX 10.13.
My aim is to automate some fairly basic tasks by stringing together simple, repetetive ones.
I have written a basic macro to do the following:
• duplicate the selected region in the current track
• deselect the current track
• move focus to the bottom track (thereby selecting just the new duplicate, ready to perform some effect on it - and it alone)
Here's the macro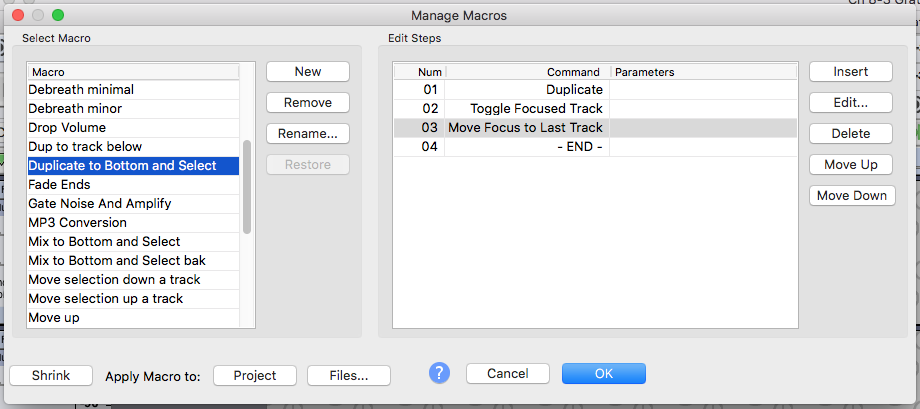 First, try replicating those steps using the Extras:Focus menu.
Choose a project with at least two audio tracks
Select all clips in the second track [I use Cmd-j, then Cmd-k - nb. is there a single macro step to do this?]
Duplicate [Cmd-d]
Extra:Focus:Toggle Focused Track
Extra:Focus:Move Focus to Last Track
This leaves only the last track selected, with the yellow lines indicating that it is also the focused track.
Now Undo your changes to delete the new track, and try running the steps as a macro instead.
What results do you get?
For me, the Focused track is now the top track in my project (not even the track I originally duplicated).
I tried rewriting the Macro - to select no tracks, move focus to last track, then toggle focused track.
Duplicate to Bottom and Select.txt (63 Bytes)
But still the newly focused track (outlined in yellow) is the first track in the project, not the last.
Is it possible that the "Move Focus to Last Track" Macro step simply doesn't work? (at any rate in Mac OSX 10.13)