Hi. I'm contacting Logitech support about this as well, but I thought I would ask around here if other people have had similar problems.
I recently got a Logitech H540 USB headset. And since getting the headset it takes 5-10 seconds to "warm up" when recording with Audacity.
For example: I hit record and start speaking, the audio is really quiet for a few seconds and slowly gets louder until it is normal. I've attached a screenshot to help visualize the issue. I hit record and talked at a normal talking volume for 15 seconds. This is what I got: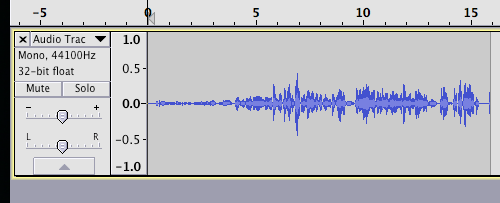 Anytime I stop recording and start again, I have to talk for a few seconds while it slowly adjusts to my voice. It doesn't matter how loudly I talk when I start recording, I have practically yelled into it and it doesn't seem to care, still starts off quiet and gets louder.
This makes recording this rather tedious, as I need to talk for a few seconds to get to "normal". Once It's at normal, it's good until it stops recording. I feel like it needs to adjust to my voice, because if I start recording, but don't speak, it still takes 5-10 seconds after I start speaking to warm up.
Anyway, been fighting this for awhile and finally thought I'd ask around for help.
Thanks much.
I'm running Audacity 2.0.0 on OS X 10.9.1