Ok I have been slaving over the Graphic EQ for a while trying to match the equalization between audio clips recorded in different settings.
I've been largely unsuccsessful… getting close, but still noticing a significant difference in various clips within my project.
UNTIL…
I had the idea to export the desired EQ spectrum to a .txt, and then do the same thing with the target clip's spectrum.
I then pasted them into a spreadsheet, and subtracted the dB values of the desired-target… and viola! Exact dB values for each frequency to use in my matching!
However… I have over a dozen clips to fix, so this becomes a painstaking process of moving the sliders around to match a chart like below: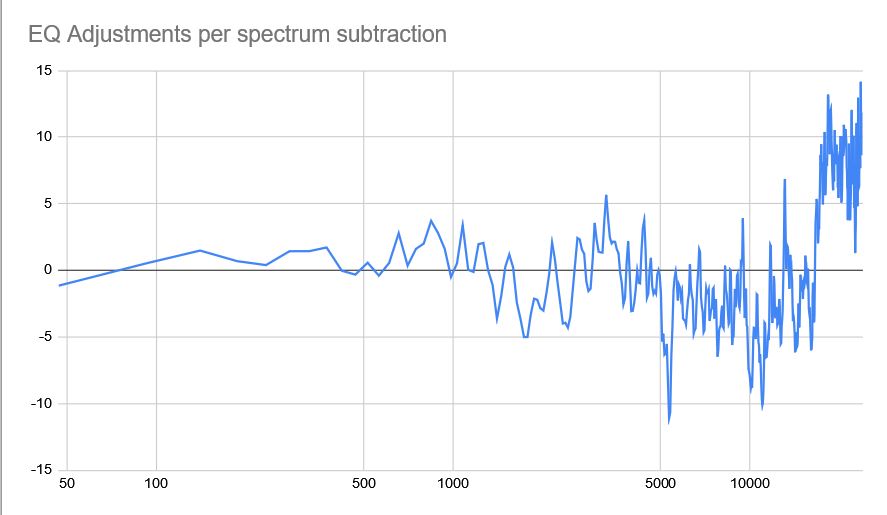 So what I'm wondering, is if some software genius on this forum (which I am not) may be able to suggest a way to automate this process, and then export an EQ "spectrum matching profile" preset for the Filter EQ. If you export a filter EQ's preset, it looks something like this:
FilterCurve:f0="81.533255" f1="94.606077" f10="468.80159" f11="521.29625" f12="562.69543" f13="2002.5155" f14="2984.6615" f15="8962.8215" f16="9116.3298" f17="11911.892" f18="16034.235" f2="105.18025" f3="180.23727" f4="215.04856" f5="245.50226" f6="298.91247" f7="397.26477" f8="397.26477" f9="451.48432" FilterLength="8191" InterpolateLin="0" InterpolationMethod="B-spline" v0="-25.100285" v1="0.17191982" v10="-5.7449856" v11="-5.8452721" v12="-0.22922611" v13="-0.028653145" v14="-5.9455585" v15="-5.9455585" v16="0.071633339" v17="0.071633339" v18="-11.862465" v2="2.8796558" v3="4.0830941" v4="3.1805158" v5="0.071633339" v6="-8.8538666" v7="-9.0544415" v8="-3.2378225" v9="-3.137536"
Whereas the Graphic EQ's profile seems like a much longer text file overall.
So the basic process would be:
Plot & export desired EQ spectrum
Plot & export target spectrum for adjustment
Subtract and generate a "delta spectrum" between the two.
Process delta spectrum data down to a manageable number of data points for use in Filter Curve EQ
Generate a user preset for the Filter EQ.
From there you could manually apply the EQ preset to the target clip in question.
I've done this manually, it works beautifully for the project I am on! I am just looking at a mountain to climb if I do all these clips manually.
I'm curious to see what comments you all may have. Let me know if you want any of the text files I'm working with.
Thank you!