Audacity 3.1.3
Windows 10
PreSonus 1810c USB Interface
I'm recording a pair of stereo mics via channels 1 & 2 of the USB interface. Audacity is set to record in stereo, and I end up with a stereo track. However, it's really just the LEFT side (input 1) duplicated on both channels in the recording. I can disconnect the mic on input 2 and nothing changes. Disconnecting the mic on input 1 makes me lose all audio into the recording. The interface also has XLR inputs 3 & 4, and I get the same result using those inputs.

I found an old thread here that says this can be fixed by going to the Windows settings for the device (right-click the speaker icon > sounds > recording > 1810c:mic/inst/line in 1/2 > properties > advanced > set it to stereo). But when I go there, I only have two options: stereo 16 bit 44.1 or stereo 24 bit 44.1. So it's already set to stereo there (and there's no mono option anyway).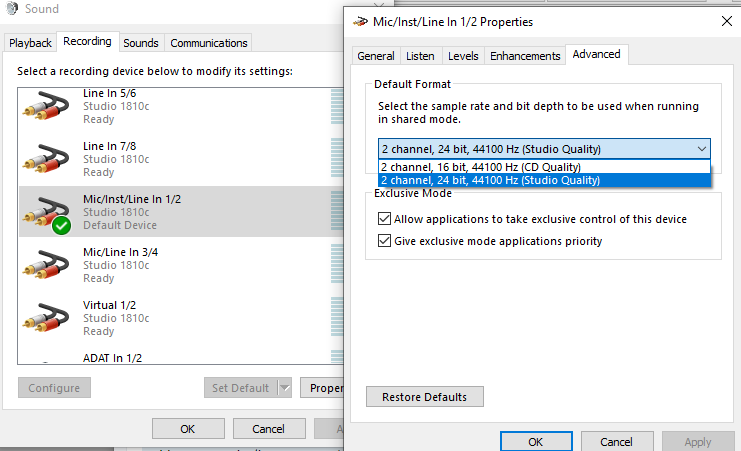 This setup works (in true stereo) if I use PreSonus Studio One software, so I don't think it's an issue with the hardware or the interface. I checked their Universal Control app, and don't see any relevant settings there. I would use Studio One, but it's not reliable for recording for some reason (stops randomly after 5-20 minutes of recording). I've gone through Sweetwater's instructions for setting up your PC for recording, so Exclusive Mode is already turned off for the interface. My PC is 3 years old (Dell). It's no powerhouse (i5, 8GB RAM), but should be able to handle 2 track recording to my Samsung T5 SSD.
I just updated my Universal Control software from PreSonus, and it says my interface's firmware is up to date.

Thanks for the help!