At start up the "Welcome To Audacity!" window remains fixed, inert, it can not be dragged. Its close, minimize and expand buttons are colorless. Hovering over them only causes the close button to become colored, but it rests inoperative (clicking on does not close the window). The "Don't show this again at the start up" message, its check box and the OK button are grayed and not working.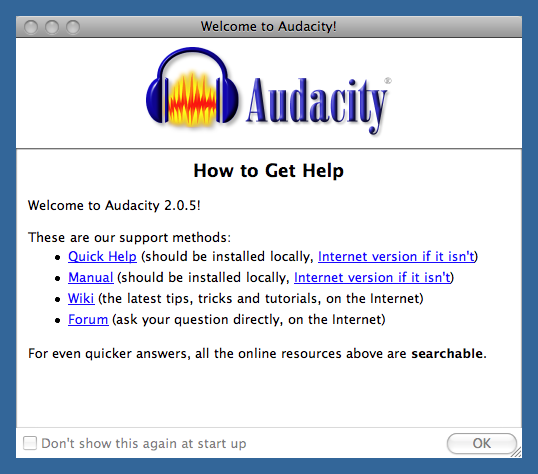 Hardware Overview:
Model Name: iMac G5
Model Identifier: PowerMac12,1
Processor Name: PowerPC G5 (3.1)
Processor Speed: 2.1 GHz
Number Of CPUs: 1
L2 Cache (per CPU): 512 KB
Memory: 2.5 GB
Bus Speed: 700 MHz
Boot ROM Version: 5.2.6f1
Hardware UUID: 00000000-0000-1000-8000-001124D80914
System Software Overview:
System Version: Mac OS X 10.5.8 (9L31a)
Kernel Version: Darwin 9.8.0
Boot Mode: Normal
Audacity
Thanks for this wonderful collaborative software.