Hi,
I've been doing LOTS of researching and reading and also several tests in order to find the "ultimate" method and settings for ripping vinyl and cassettes. Now the result basically sounds fine, but in my mind, there is a slight tendency towards a "harsh", or "digital", sound. So, I'm trying everything I can think of to make it sound totally transparent and now I've been exploring Exclusive mode for WASAPI and I have a question regarding the "exclusivity".
I have a Focusrite Scarlett 2i2 (3rd Gen) as an A/D converter connected via USB to my ASUS UX430 Laptop running Windows 10. I'm running Audacity 3.3.3 and WASAPI and the Scarlett is set up (in Windows "Sound Settings") to run in exclusive mode (see screen shots) and the quality is set to 24-bit 96kHz.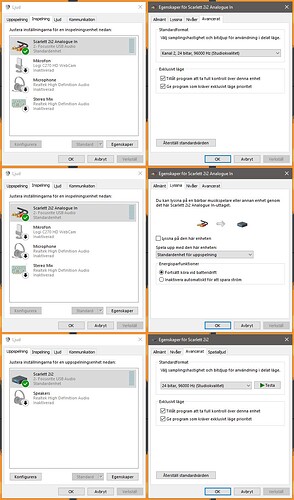 As can be seen in the screen shots, all other sound devices are inactive (Sorry about the Swedish, but I hope it's pretty obvious what it is what…) and in Audacity all the devices are the same and the quality is set to 96kHz and 32-bit floating.
When I play a track in Audacity and at the same time start a YouTube Video, I get sound from both sources…???
My understanding was that the application started first (Audacity) got/took/demanded exclusive rights to the soundcard, which should be the Scarlett since all others are not active. Playthrough and overdub are also both unchecked and during recordings I monitor direct on the Scarlett.
This is probably not a problem, when I record (rip) I close down everything but Audacity and when I monitor, manually remove clicks, normalize, set up track labels and so on I never play anything else. It's just a nagging feeling that IF Audacity doesn't have total control of the soundcard, there MIGHT be something else using its resources.
I have not yet tried to play a video at the same time as I make a recording, so I don't know if Audacity has full control in that situation…
Oddly (at least to me) is that Focusrite recommends to uncheck exclusive mode, in order to potentially increase sound quality…? I thought it would obviously be better if the DAW and the soundcard had exclusive rights to each other.
Hopeful that someone can shed some light on this…!


THANKS in advance…!!
Micke