In Audacity 2.4.0 (due to be released next month), the "Silence Finder" has been updated, but functionally remains almost unchanged from previous versions. The only differences are:
Bug fix: The level for stereo tracks is now measured correctly
The "Treat audio below this level as silence (dB)" control now has a range of -100 dB to 0 dB (default -30dB) whereas the old version had a range of 0 to 100 (default 26) with units of "-dB"
The "Debug" button has been removed (this is a release version).
Square brackets in the GUI have been replaced by parentheses (consistent with other effects).
Although it would have been possible to merge the "Silence Finder" and "Sound Finder" into one effect, I resisted doing that for reasons that Gale Andrews frequently cited:
"Silence Finder" is a relatively simple effect, suitable for use by even the most novice users.
There's a lot of old documentation that refers to using Silence Finder.
Given that the "simple" Silence Finder has been retained, I think it would be good to add a bit more functionality to "Sound Finder" as a more "advanced" option. It is too late to change Sound Finder in Audacity 2.4.0, but this delay provides an opportunity to fully test, and tweak if necessary, an updated effect for a future Audacity release. To this end, I propose…
Label Sounds…
The name, as recommended by Apple's 'Human Interface Guidelines', uses the action verb "label", and is descriptive of what the effect does - it labels sounds.
The interface: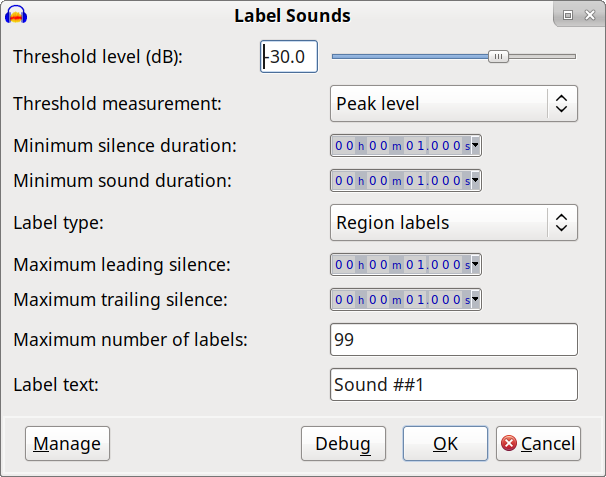 Controls:
Threshold level (dB): [-100 to 0 dB] (default -30)
When audio is below this level, it is considered to be 'silence'.
Threshold measurement: ["Peak level" | "Average level" | "RMS level"] (default "Peak level")
Peak level: The threshold level is measured as the peak level

Average level: The threshold is measured as the absolute average level for each 100 ms. This setting may help
avoid labelling clicks in vinyl recording. Note that the average level will usually be lower than the peak level.
RMS level: The threshold is measured as RMS level. Like the 'Average level' measurement, this is less likely to
label clicks. RMS level may be measured with the 'Measure RMS' or 'Contrast' effects.

Minimum silence duration: [0.01 seconds to 1 hour] (default 1 second)
When 'silence' of this duration (or longer)
is found, preceding sound and following sound are considered to be separate sounds, provided that the previous
sound is at least the 'Minimum sound duration'.
Minimum sound duration: [0.01 seconds to 10 hours] (default 1 second)
If a sound less than this length is interrupted
by silence, the silence will be ignored. This means that labels will be at intervals of this length or more, other than
the final label (which may be shorter).
Label type: [Point labels | Region labels] (default: Region labels)
Sounds are labelled either with a point label before the sound, or a region label around the sound.
Maximum leading silence: [0 seconds or more] (default: 1 second)
A point label, or the start of a region label will be placed before the start of a sound by this amount, if there is room to do so. Labels will not be placed before time=0, and will not overlap previous sounds.
Maximum trailing silence: [0 seconds or more] (default 1 second)
This setting is used by region labels only. The end of a region label will be placed this distance after the end of a sound, provided that there is room to do so before the next sound.
Maximum number of labels: [0 to 10000] (default 99)
The maximum number of labels that will be produced. Note that the maximum number of tracks for a normal audio CD is 99.
Label text: [text] (default "Sound #

#1

")
This is the text that will be entered in each label.
The '#' symbol is a special 'placeholder' character for adding a counter.

The number of successive '#' symbols determines the number of digits and if followed by an integer number, the starting number is defined.
Example: ##

#3

will add a three digit counter that counts up: 003, 004, 005… for consecutive labels.
A counter may be placed before, after or withing the label text, but only one counter may be used in a label.
Precision:
The amplitude measurements are made at intervals of 0.01 seconds, thus the label placement may be up to 0.01 seconds before / after a sound.


Tips:
If the 'Threshold' is set too low then 'silences' may be above the Threshold level, causing the 'silence' to be seen as a 'sound'.
If the 'Threshold' is set too high, the beginning or end of sounds may be missed.
If 'Minimum silence duration' is too short, there may be more labels than intended due to short gaps being seen as 'silence'.
If 'Minimum silence duration' is too long, gaps between songs may not be seen.
For vinyl recordings, 'Average' or 'RMS' measurement is recommended so as to reduce the chance of crackles registering as 'sounds'.
The plug-in:
Latest version:
label-sounds.ny (10.9 KB)
old version:
label-sounds.ny (10.9 KB)
Installation Instructions:
This is a "Nyquist plug-in" and may be installed in the usual way: https://manual.audacityteam.org/man/customization.html#plug-ins