I am having trouble importing some old MP3 files. I know that I have imported these in the past but on an old install of Audacity. The error I am receiving is: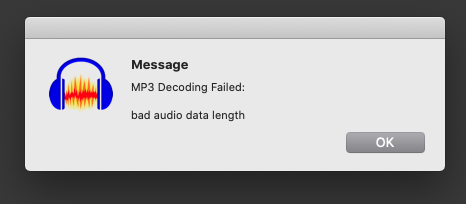 I can play these files in QuickTime Player. I thought it might be related to Lame or FFmepg, but I am not sure about that. Here is what I have installed -


I am running MacOS 10.15.6 with Audacity 2.4.2
I am open to any ideas. My current workaround is to play the files using QuickTime and record the system audio. Not very elegant but it works. I can attach one of these audio files if you want an example. They are each about 5 minutes in length.
Thank You,
Ron