So recently I recorded a video in OBS and I had an issue with my microphone track, where it blended the game audio track inside, and I'm not sure how to fix it, I tried using the "Isolate vocals" effect, but it's really, really bad.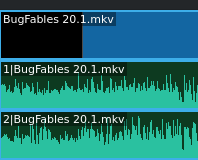 The game audio track is perfectly isolated, so I figured I can maybe use that track as a mask to remove the matching audio on my mic track, and be left with mostly just my own voice, even if it has some artifacts (maybe I could even run the isolate vocals effect after), I just, have no idea how.
I found this thread when looking for info, and it mentions something similar to mine, and while their proposal is seemingly not possible, someone mentions that A-B (which is what I'm trying to do, Mic/Game blend - Game audio) is possible, I just don't really understand Audacity too too much to figure it out on my own.
In case it matters, both audio files are .wav.