Hello everyone! Not that long ago, I was working on finishing up a song I've been working on for about a month now. While I was doing some editing, I accidentally knocked my mic over, which then knocked over a soda can, which spilled soda all over my powerstrip. I quickly saved and cut power, then I grabbed a new powerstrip and got back to work. Problem is, now every track except for one is grayed out and won't play.


It doesn't say they're muted, and muting then unmuting has no effect. I can still apply effects to the tracks, but that's not very useful if I can't actually hear the track.



Everything else on my computer seems fine, so I don't think the sudden power cut damaged anything. What I'm starting to think happened is I cut power while it was still saving. Anyway, is there any way to recover everything? I'm seriously about to have a breakdown.
*** I FORGOT TO MENTION I get the warning that 54 Orphan Blocks have been found.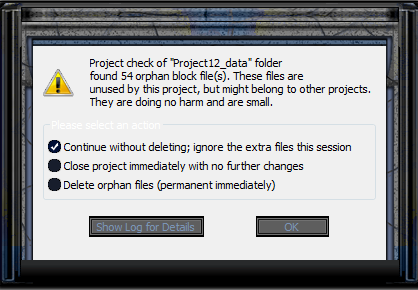 I never deleted them, just in case they had to do with the project. I didn't start getting the warning until I had the problem I'm posting about.
SPECS: HP DC5800 Microtower, stock mobo, 4GB RAM, 250 Gig HDD (with 39.7 Gigs free), Audacity 2.0.5