And what happens when you try recording on each other's equipment?
What he said.
You could try bypassing PulseAudio.
You could try bypassing the computer.
Now on sale at Sweetwater Audio.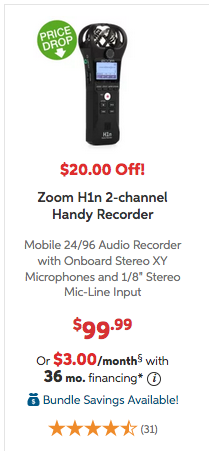 That, pretty much as you see it is how I recorded my technically perfect ACX test submission. People have posted on the forum using Zooms H1 through H6. Granted you still have to buy the memory chip and batteries, but since it has nothing to do with the computer, the sound is perfect.
I believe you can leave the USB cable connected and not have to use the on-board batteries. You can also use it hot as a computer-connected microphone, but I wouldn't do that at gunpoint.
I'm down for a 9 hours audiobook!
You can troubleshoot your machine while you're recording your audiobook. If you find out what's causing this, post back. Nobody has ever solved this.
Koz