Hi all,
Here is a distortion effect for use mainly on electric guitars.
It's similar to a diode distortion effect and has 3 settings namely soft, medium and hard.
Depending on which setting it's on, the level can increase slightly.
To increase the effect, run it several times, but keep in mind the level increase each time.
It also high pass filters (from 20Hz) to reduce too much low end which will makes it sound too muddy.
The ideal way to use it, is to duplicate a guitar track and leave one "dry" and the other apply this effect to.
By using the individual track levels, you have control over "dry" and "wet" so to speak.
Of course, it can be used on just one track if you wish.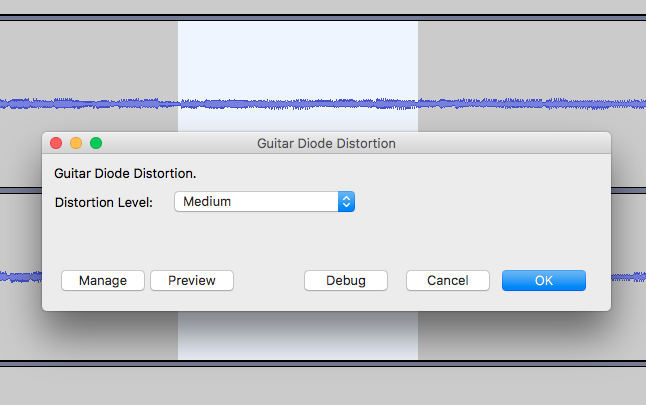 I have attached the plugin below.
It can be installed like any Nyquist plug in.
Don't forget to enable it in Audacity.
Have also attached a short clip of a guitar with before and after.
They are in 192Kb/s MP3's
Horrible I know but had to fit within the forum's size limits.
And no, it's not me playing the guitar, it's a buddy of mine, you don't want to hear me playing a guitar, trust me.
GuitarWithEffects.mp3.zip (1.07 MB)
GuitarDry.mp3.zip (1.07 MB)
GuitarDiodeDistortion.ny (672 Bytes)