I'm running Audacity 2.1.3 under macOS Sierra 10.12.6 on an iMac (Retina 5K, 27-inch, Late 2014), 3.5GHz i5 with 32GB RAM.
When I last used Audacity on August 11th it worked perfectly. When I fired it up today, I got "Error opening sound device. Try changing the audio host, playback device and the project sample rate." The problem is everything appears to be set up correctly and every other app I've tried that uses audio (iTunes, Chrome, Premiere Pro 6.0, and VLC) works fine. I've also deleted Audacity, downloaded a new installer, and re-installed.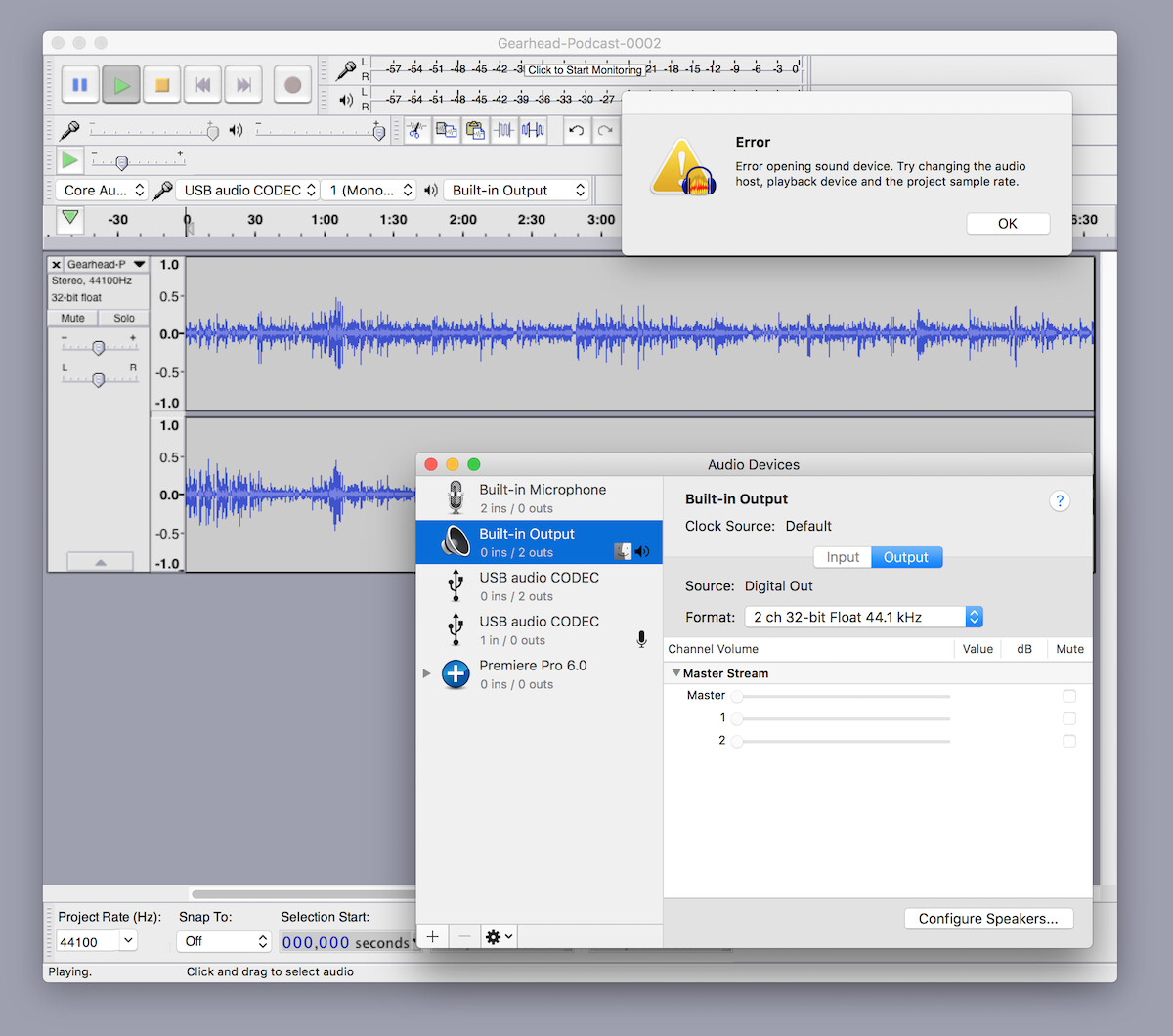 As you can see, the project and track rates are 44,100Hz, the track is stereo, and 32-bit float. Audio Midi Setup shows that the Built-in Output device selected in Audacity is also configured for 2 channels, 32-float, and 44.1 kHz.
I'm using Digital Out in System Sound Preferences which was the same as in August. My System Information audio report is below.
I did have eqMac2 (https://bitgapp.com/eqmac/) installed which I had upgraded to from the original version a couple of weeks ago so I uninstalled that and rebooted (via shutdown). No luck. I've been wrestling with this for probably two hours so I turn to you, oh oracle of Audacity, for enlightenment and succor.
Thanks in advance.



Devices:

Built-in Microphone:

  Input Channels:	2
  Manufacturer:	Apple Inc.
  Current SampleRate:	44100
  Transport:	Built-in

Built-in Output:

  Default Output Device:	Yes
  Default System Output Device:	Yes
  Manufacturer:	Apple Inc.
  Output Channels:	2
  Current SampleRate:	44100
  Transport:	Built-in

USB audio CODEC:

  Manufacturer:	Burr-Brown from TI
  Output Channels:	2
  Current SampleRate:	44100
  Transport:	USB

USB audio CODEC:

  Default Input Device:	Yes
  Input Channels:	1
  Manufacturer:	Burr-Brown from TI
  Current SampleRate:	44100
  Transport:	USB

Premiere Pro 6.0:

  Manufacturer:	Apple Inc.
  Current SampleRate:	0
  Transport:	Unknown

Built-in Microphone:

  Input Channels:	2
  Manufacturer:	Apple Inc.
  Current SampleRate:	44100
  Transport:	Built-in

Built-in Output:

  Default Output Device:	Yes
  Default System Output Device:	Yes
  Manufacturer:	Apple Inc.
  Output Channels:	2
  Current SampleRate:	44100
  Transport:	Built-in

USB audio CODEC:

  Manufacturer:	Burr-Brown from TI
  Output Channels:	2
  Current SampleRate:	44100
  Transport:	USB

USB audio CODEC:

  Default Input Device:	Yes
  Input Channels:	1
  Manufacturer:	Burr-Brown from TI
  Current SampleRate:	44100
  Transport:	USB

Premiere Pro 6.0:

  Manufacturer:	Apple Inc.
  Current SampleRate:	0
  Transport:	Unknown

Intel High Definition Audio:

  Audio ID:	122

Headphone:

  Connection:	Combination Output

Speaker:

  Connection:	Internal

Internal Microphone:

  Connection:	Internal

S/PDIF Optical Digital Audio Output:

  Connection:	Combination Output

External Microphone / iPhone Headset:

  Connection:	Combination Output

HDMI / DisplayPort Output:

  Connection:	Display

Headphone:

  Connection:	Combination Output