Audacity version: 2.0.5
Windows version: 8.1
Obtained the .exe installer
Yesterday I recorded an interview directly into my computer using Audacity. I saved the project using a long file name that contains parenthesis and Audacity seemed to allow the Save. I didn't have time to make edits I wanted to make, so I left Audacity and the file open. Later in the day my computer crashed. Today when I tried to open my project I got the following Error Opening File msg.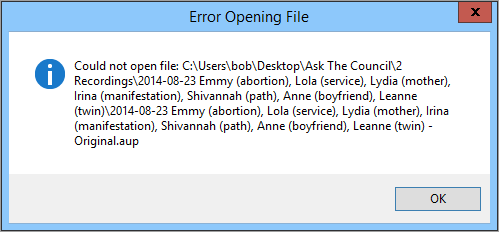 My .aup file and _data folder have the same name (not changed manually) and are in the folder I saved them to using Audacity. I haven't changed the location of either. I'm wondering if the parenthesis in the file name are causing a syntax problem that prevents opening the file.
The Automatic Crash Recovery dialog did not display when I restarted Audacity after the crash.
My Audacity Autosave folder is empty.
The _data folder contains a single folder (e00) that contains 5 subfolders (d00-d04). d00 through d03 each contain 256 .au files. d04 contains 220 .au files.
A lot of time and effort went into this interview and if anyone has any suggestion how I might be able to open/recover this project, I would appreciate it. Thanks.