Greetings,
I've recently discovered Audacity and have been quite impressed by its many functions. Frankly, as a newcomer I'm still learning about how we can improve/adjust audio files from different sources, and as such, I'm a bit confused by something I've noticed when looking "behind the scenes" at some of my audio files on iTunes.
I've tried their forum with a few of my questions but they've gone unanswered. I'm hoping someone here will be able to clarify a few things for me as I continue trying to educate myself.
My question concerns one of the details in the attached image about volume.
After uploading several songs to my iTunes program and inspecting their playback levels, I am confused as to what the category for volume -6.0 dB (for example) actually means.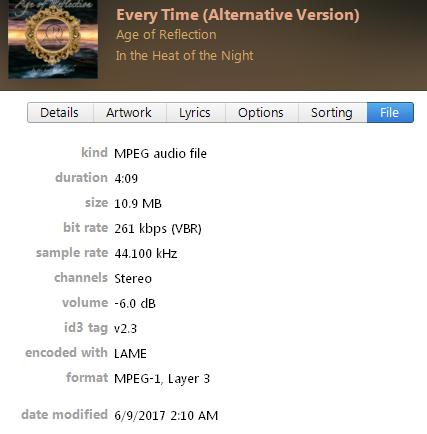 I know the dB = decibel. But what I've discovered is that several of the songs from the same CD or artist can have various dB levels which increases or decreases the volume of the song, sometimes quite a lot.
I have also seen other songs where it shows volume +0.1 or higher.
What is the difference then between the (-) and (+) in the volume?
I don't mean to sound trivial, but the playback volume differs greatly in songs within the same CD and I've noticed that the ones where the (-) dB is greater are much louder than ones where there is a (+) dB.
I'm trying to figure this out to better understand and try to account for this in my future purchases and uploads. I've searched the web but cannot find any explanation.
Sound Check: I know about the Sound Check feature, but prefer not to use it because it lowers the output and makes the songs sound unclear.
In addition, What determines the DB level of the song?
Based on the previous details, let's presume a song's optimum volume level is -6 to -8 dB.
So for example, if I have a CD or MP3 file and I want to upload a song to my website or phone or whatever, how can I control the volume level to ensure that it is at or close to this optimum level? Is there anything I can do? Or is this strictly determined by the original source recording?
If so, what control do I have over this through the Audacity tools, if any?
Thanks in advance to anyone that can assist!