I've been relying on GarageBand for… some years now… until just recently trying to branch into audiobooks with ACX. I recorded my first 15 minutes, submitted for approval, got approved, but saw I failed the ACX submission requirements. Been doing a lot of research this past week trying to figure out how to troubleshoot, found audacity and the handy ACX check tool, even found some nice tutorials for setting up a chain (now called macro) to apply all of the mastering tools in one swoop and now my "ACX" macro, per https://wiki.audacityteam.org/wiki/Audiobook_Mastering, includes all of this:
Effect > Filter curve… > Manage > Factory Presets > : Low roll-off for speech > OK.
Effect > RMS Normalize: Target RMS Level -20dB > OK.
Effect > Limiter: Soft Limit, 0.00, 0.00, -3.50dB, 10.00, No > OK.
Analyze > ACX-Check.
I can tell it's working but every time, my noise floor is too high after applying these tools. (Right now it's ending up around -55.7dB after applying the macro)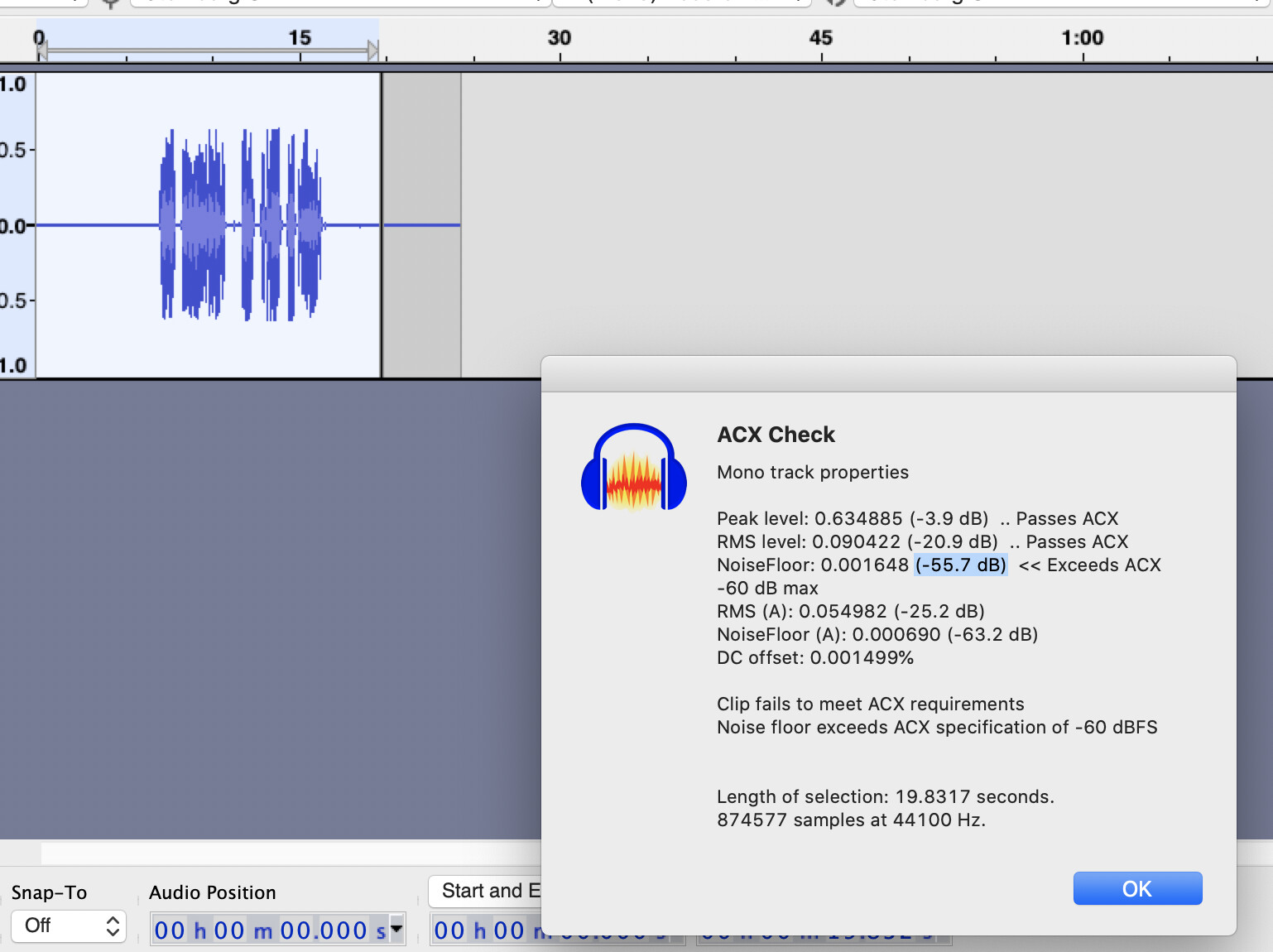 To be clear, I am not uploading the audio from my previous recording in GarageBand into Audacity, as I'm assuming I'll just need to re-record all of that once I find settings and tools that will work. So the clip of audio in the screenshot is just a test recording (one of maybe a hundred I've tried over the past few days ugh) I've read in some forum posts here that the problem is usually with original recording so I've tried turning my microphone's input settings all over the place and nothing fixes my final outcome.
I'm recording in a vocal booth I constructed out of PVC and double layered moving blankets, which closely resembles a https://www.bookablevo.com/tri-booth although mine goes all the way to the floor and there are more blankets, so the space is very dead sound-wise.
I'm using a Blue Spark Microphone, through a Steinberg UR-22 audio interface, to a MacBook pro running Mac Os Catalina 10.15.3 and Audacity version 2.3.3
Note I am aware (I believe) Audacity isn't currently supported on anything beyond Mac OS X because of a restriction on permissions to microphones, but I found a workaround (I think on these forums) to type in a line of code into terminal, and keep that open to utilize audacity with this set up, and that has worked well.
Hoping there's a setting I'm missing here and all of the work I've done building this setup has not been in vain. I feel like I'm so close! Thank you in advance for any suggestions!