Win10/Audacity 3.1.3
I read this short topic Can't record audio when my headset is plugged in
This week I embark on recording audio (singing) in time with a playing back a piano track. (I can't read music, so the piano track gives me the notes, tempo and duration).
There is downstream, an audio-editor-person who cunningly matches my sung track with the previously recorded piano track.
The objective is to get my recording within 5% of the duration of the piano piece, making it easier for the audio editor to meld the tracks. Please don't ask me how they achieve that!
I have a musical ear/memory, and I can get the singing spot-on aligned with the piano.
So rather than wait for a set of headphones to arrive by car from St John's on Friday, this morning I went and bought me a $1.50 pair of earbuds.
The plug has three segments which I think means I can listen in stereo (if the piano track is in stereo).
I am supposed to sing/record while listening to the piano track.
The earbuds/headphones are supposed to divert the audio from my laptop speakers, so that the laptop microphone picks up just my voice, and not the piano.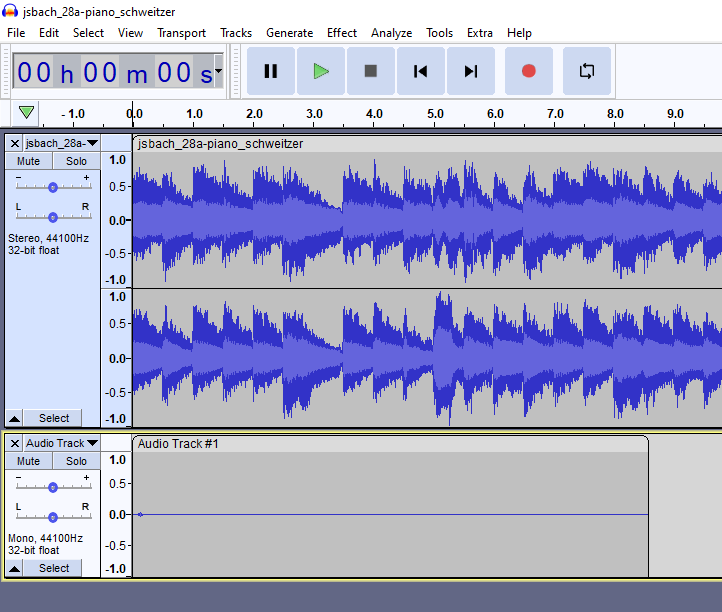 The image above is what I see when I use the (green) Play button to begin playing back the piano track, and then click the (red) Record button and start singing.
Problem: The third track shows that nothing is being recorded.
Question 1: Have I understood the business of plugging something into the laptop speaker socket to "mute" the playback of the piano track?
Question 2: Is this technique supposed to work with a $1.50 set of earbuds as distinct from a luxurious $1,000 set of ear-cushion-padded HiFi headphones with an extremely large jack that won't fit into any socket on my laptop?
Question 3: Is there a setting in Audacity of which I am ignorant?
Thanks for any advice.
Chris Greaves