Hi,
using V 3.3.3 , I cannot find any effects / sepcial / vocal remover.
Where to find, please?
Greetings
Hello jademan,
thank you for your advice. I have read this, but I still can't find it.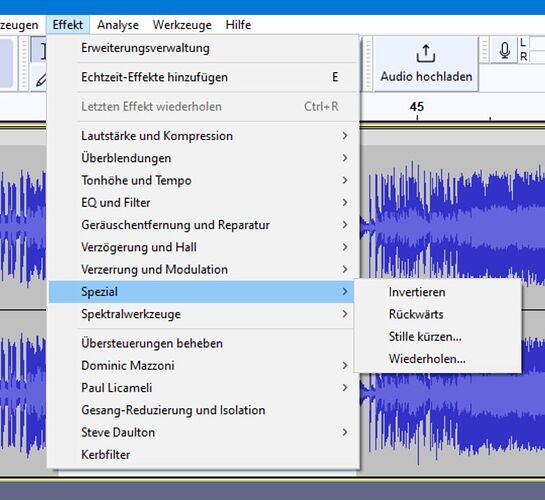 Should I use the English version of Audacity?
Greetings
I am not sure that is going to do it. Here is what I get when I change to German:
Hang on…
I believe this effect is contained withing this file: C:\Program Files\Audacity\Plug-Ins\vocalrediso.ny
If you don't have that file, then I would repeat the installation.
It is possible that the sort shows up differently. This is a Nyquist effect, so under File > Preferences > Effect, set Group by type.

It may also be disabled for some reason; you can check in your plugin manager.
Hello jademan, you are right, this is the correct file. It is present and activated.
Now I deactivated the effect, activated it again - and now it is displayed. But separately, not under "special". Anyway.
Thank you very much for your support!
This topic was automatically closed after 30 days. New replies are no longer allowed.