Hello!
I have installed Audacity (2.0.6-2) in Xubuntu 15.04, but when i start it it hangs and shows only a blank window.
I have tried re-installing it via Ubuntu software center and "apt-get install audacity" in the terminal but the problem does not go away.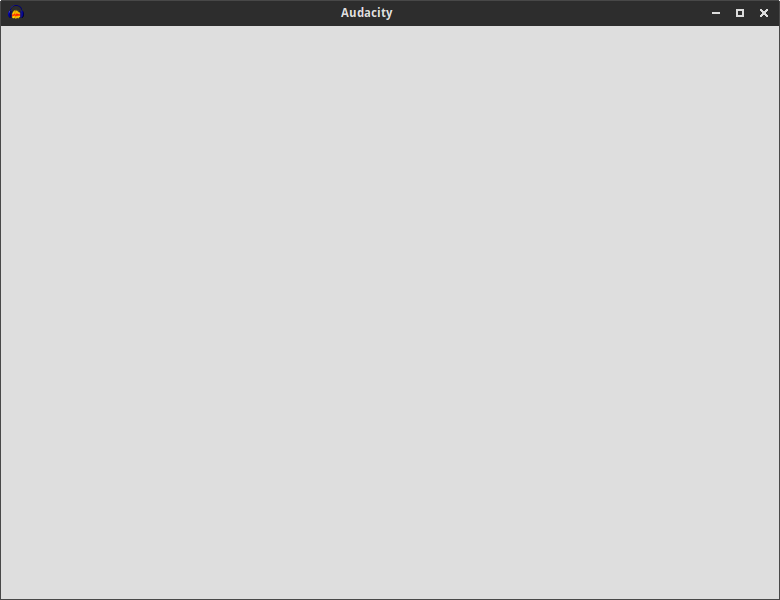 What could the problem be?
This is the output from the terminal:
ALSA lib pcm_dmix.c:1022:(snd_pcm_dmix_open) unable to open slave
ALSA lib pcm.c:2239:(snd_pcm_open_noupdate) Unknown PCM cards.pcm.rear
ALSA lib pcm.c:2239:(snd_pcm_open_noupdate) Unknown PCM cards.pcm.center_lfe
ALSA lib pcm.c:2239:(snd_pcm_open_noupdate) Unknown PCM cards.pcm.side
ALSA lib pcm_route.c:947:(find_matching_chmap) Found no matching channel map
bt_audio_service_open: connect() failed: Connection refused (111)
bt_audio_service_open: connect() failed: Connection refused (111)
bt_audio_service_open: connect() failed: Connection refused (111)
bt_audio_service_open: connect() failed: Connection refused (111)
ALSA lib pcm_dmix.c:1022:(snd_pcm_dmix_open) unable to open slave
Cannot connect to server socket err = No such file or directory
Cannot connect to server request channel
jack server is not running or cannot be started
18:05:30: Debug: DirManager: Created new instance.
Expression 'ret' failed in 'src/hostapi/alsa/pa_linux_alsa.c', line: 1736
Expression 'AlsaOpen( &alsaApi->baseHostApiRep, params, streamDir, &self->pcm )' failed in 'src/hostapi/alsa/pa_linux_alsa.c', line: 1904
Expression 'PaAlsaStreamComponent_Initialize( &self->capture, alsaApi, inParams, StreamDirection_In, NULL != callback )' failed in 'src/hostapi/alsa/pa_linux_alsa.c', line: 2171
Expression 'PaAlsaStream_Initialize( stream, alsaHostApi, inputParameters, outputParameters, sampleRate, framesPerBuffer, callback, streamFlags, userData )' failed in 'src/hostapi/alsa/pa_linux_alsa.c', line: 2840
18:05:31: Debug: PortAudio stream error creating device list: ALSA:HDA ATI SB: ALC1200 Analog (hw:0,0): Device unavailable
Expression 'stream->playback.pcm' failed in 'src/hostapi/alsa/pa_linux_alsa.c', line: 4611
ALSA lib pcm_dsnoop.c:618:(snd_pcm_dsnoop_open) unable to open slave
ALSA lib pcm_dsnoop.c:618:(snd_pcm_dsnoop_open) unable to open slave
ALSA lib pcm_dsnoop.c:618:(snd_pcm_dsnoop_open) unable to open slave
ALSA lib pcm_dsnoop.c:618:(snd_pcm_dsnoop_open) unable to open slave
ALSA lib pcm_dsnoop.c:618:(snd_pcm_dsnoop_open) unable to open slave
ALSA lib pcm_dsnoop.c:618:(snd_pcm_dsnoop_open) unable to open slave
ALSA lib pcm_dsnoop.c:618:(snd_pcm_dsnoop_open) unable to open slave
ALSA lib pcm_dsnoop.c:618:(snd_pcm_dsnoop_open) unable to open slave
ALSA lib pcm_dsnoop.c:618:(snd_pcm_dsnoop_open) unable to open slave
ALSA lib pcm_dsnoop.c:618:(snd_pcm_dsnoop_open) unable to open slave
ALSA lib pcm_dsnoop.c:618:(snd_pcm_dsnoop_open) unable to open slave
ALSA lib pcm_dsnoop.c:618:(snd_pcm_dsnoop_open) unable to open slave
ALSA lib pcm_dsnoop.c:618:(snd_pcm_dsnoop_open) unable to open slave
ALSA lib pcm_dsnoop.c:618:(snd_pcm_dsnoop_open) unable to open slave
ALSA lib pcm_dsnoop.c:618:(snd_pcm_dsnoop_open) unable to open slave
ALSA lib pcm_dsnoop.c:618:(snd_pcm_dsnoop_open) unable to open slave
ALSA lib pcm_dsnoop.c:618:(snd_pcm_dsnoop_open) unable to open slave
ALSA lib pcm_dsnoop.c:618:(snd_pcm_dsnoop_open) unable to open slave
ALSA lib pcm_dsnoop.c:618:(snd_pcm_dsnoop_open) unable to open slave
ALSA lib pcm_dsnoop.c:618:(snd_pcm_dsnoop_open) unable to open slave
ALSA lib pcm_dsnoop.c:618:(snd_pcm_dsnoop_open) unable to open slave
ALSA lib pcm_dsnoop.c:618:(snd_pcm_dsnoop_open) unable to open slave
ALSA lib pcm_dsnoop.c:618:(snd_pcm_dsnoop_open) unable to open slave
ALSA lib pcm_dsnoop.c:618:(snd_pcm_dsnoop_open) unable to open slave
ALSA lib pcm_dsnoop.c:618:(snd_pcm_dsnoop_open) unable to open slave
ALSA lib pcm_dsnoop.c:618:(snd_pcm_dsnoop_open) unable to open slave
ALSA lib pcm_dsnoop.c:618:(snd_pcm_dsnoop_open) unable to open slave
ALSA lib pcm_dsnoop.c:618:(snd_pcm_dsnoop_open) unable to open slave
ALSA lib pcm_dsnoop.c:618:(snd_pcm_dsnoop_open) unable to open slave
ALSA lib pcm_dsnoop.c:618:(snd_pcm_dsnoop_open) unable to open slave
ALSA lib pcm_dsnoop.c:618:(snd_pcm_dsnoop_open) unable to open slave
ALSA lib pcm_dsnoop.c:618:(snd_pcm_dsnoop_open) unable to open slave
ALSA lib pcm_dsnoop.c:618:(snd_pcm_dsnoop_open) unable to open slave
ALSA lib pcm_dsnoop.c:618:(snd_pcm_dsnoop_open) unable to open slave
ALSA lib pcm_dsnoop.c:618:(snd_pcm_dsnoop_open) unable to open slave
ALSA lib pcm_dsnoop.c:618:(snd_pcm_dsnoop_open) unable to open slave
ALSA lib pcm_dsnoop.c:618:(snd_pcm_dsnoop_open) unable to open slave
ALSA lib pcm_dsnoop.c:618:(snd_pcm_dsnoop_open) unable to open slave
ALSA lib pcm_dsnoop.c:618:(snd_pcm_dsnoop_open) unable to open slave
ALSA lib pcm_dsnoop.c:618:(snd_pcm_dsnoop_open) unable to open slave
ALSA lib pcm_dsnoop.c:618:(snd_pcm_dsnoop_open) unable to open slave
ALSA lib pcm_dsnoop.c:618:(snd_pcm_dsnoop_open) unable to open slave
ALSA lib pcm_dsnoop.c:618:(snd_pcm_dsnoop_open) unable to open slave
ALSA lib pcm_dsnoop.c:618:(snd_pcm_dsnoop_open) unable to open slave
ALSA lib pcm_dsnoop.c:618:(snd_pcm_dsnoop_open) unable to open slave
ALSA lib pcm_dsnoop.c:618:(snd_pcm_dsnoop_open) unable to open slave
ALSA lib pcm_dsnoop.c:618:(snd_pcm_dsnoop_open) unable to open slave
ALSA lib pcm_dsnoop.c:618:(snd_pcm_dsnoop_open) unable to open slave
ALSA lib pcm_dsnoop.c:618:(snd_pcm_dsnoop_open) unable to open slave
ALSA lib pcm_dsnoop.c:618:(snd_pcm_dsnoop_open) unable to open slave
ALSA lib pcm_dsnoop.c:618:(snd_pcm_dsnoop_open) unable to open slave
ALSA lib pcm_dsnoop.c:618:(snd_pcm_dsnoop_open) unable to open slave
ALSA lib pcm_dsnoop.c:618:(snd_pcm_dsnoop_open) unable to open slave
ALSA lib pcm_dsnoop.c:618:(snd_pcm_dsnoop_open) unable to open slave
ALSA lib pcm_dsnoop.c:618:(snd_pcm_dsnoop_open) unable to open slave
ALSA lib pcm_dsnoop.c:618:(snd_pcm_dsnoop_open) unable to open slave
ALSA lib pcm_dsnoop.c:618:(snd_pcm_dsnoop_open) unable to open slave
ALSA lib pcm_dsnoop.c:618:(snd_pcm_dsnoop_open) unable to open slave
ALSA lib pcm_dsnoop.c:618:(snd_pcm_dsnoop_open) unable to open slave
ALSA lib pcm_dsnoop.c:618:(snd_pcm_dsnoop_open) unable to open slave
ALSA lib pcm_dsnoop.c:618:(snd_pcm_dsnoop_open) unable to open slave
ALSA lib pcm_dsnoop.c:618:(snd_pcm_dsnoop_open) unable to open slave
ALSA lib pcm_dsnoop.c:618:(snd_pcm_dsnoop_open) unable to open slave
ALSA lib pcm_dsnoop.c:618:(snd_pcm_dsnoop_open) unable to open slave
ALSA lib pcm_dsnoop.c:618:(snd_pcm_dsnoop_open) unable to open slave
ALSA lib pcm_dsnoop.c:618:(snd_pcm_dsnoop_open) unable to open slave
ALSA lib pcm_dsnoop.c:618:(snd_pcm_dsnoop_open) unable to open slave
ALSA lib pcm_dsnoop.c:618:(snd_pcm_dsnoop_open) unable to open slave
ALSA lib pcm_dsnoop.c:618:(snd_pcm_dsnoop_open) unable to open slave
ALSA lib pcm_dsnoop.c:618:(snd_pcm_dsnoop_open) unable to open slave
ALSA lib pcm_dsnoop.c:618:(snd_pcm_dsnoop_open) unable to open slave
ALSA lib pcm_dsnoop.c:618:(snd_pcm_dsnoop_open) unable to open slave
ALSA lib pcm_dsnoop.c:618:(snd_pcm_dsnoop_open) unable to open slave
ALSA lib pcm_dsnoop.c:618:(snd_pcm_dsnoop_open) unable to open slave
ALSA lib pcm_dsnoop.c:618:(snd_pcm_dsnoop_open) unable to open slave
ALSA lib pcm_dsnoop.c:618:(snd_pcm_dsnoop_open) unable to open slave
ALSA lib pcm_dsnoop.c:618:(snd_pcm_dsnoop_open) unable to open slave
ALSA lib pcm_dsnoop.c:618:(snd_pcm_dsnoop_open) unable to open slave
ALSA lib pcm_dsnoop.c:618:(snd_pcm_dsnoop_open) unable to open slave
ALSA lib pcm_dsnoop.c:618:(snd_pcm_dsnoop_open) unable to open slave
ALSA lib pcm_dsnoop.c:618:(snd_pcm_dsnoop_open) unable to open slave
ALSA lib pcm_dsnoop.c:618:(snd_pcm_dsnoop_open) unable to open slave
ALSA lib pcm_dsnoop.c:618:(snd_pcm_dsnoop_open) unable to open slave
ALSA lib pcm_dsnoop.c:618:(snd_pcm_dsnoop_open) unable to open slave
ALSA lib pcm_dsnoop.c:618:(snd_pcm_dsnoop_open) unable to open slave
ALSA lib pcm_dsnoop.c:618:(snd_pcm_dsnoop_open) unable to open slave
ALSA lib pcm_dsnoop.c:618:(snd_pcm_dsnoop_open) unable to open slave
ALSA lib pcm_dsnoop.c:618:(snd_pcm_dsnoop_open) unable to open slave
ALSA lib pcm_dsnoop.c:618:(snd_pcm_dsnoop_open) unable to open slave
ALSA lib pcm_dsnoop.c:618:(snd_pcm_dsnoop_open) unable to open slave
ALSA lib pcm_dsnoop.c:618:(snd_pcm_dsnoop_open) unable to open slave
ALSA lib pcm_dsnoop.c:618:(snd_pcm_dsnoop_open) unable to open slave
ALSA lib pcm_dsnoop.c:618:(snd_pcm_dsnoop_open) unable to open slave
ALSA lib pcm_dsnoop.c:618:(snd_pcm_dsnoop_open) unable to open slave
ALSA lib pcm_dsnoop.c:618:(snd_pcm_dsnoop_open) unable to open slave
ALSA lib pcm_dsnoop.c:618:(snd_pcm_dsnoop_open) unable to open slave
ALSA lib pcm_dsnoop.c:618:(snd_pcm_dsnoop_open) unable to open slave
ALSA lib pcm_dsnoop.c:618:(snd_pcm_dsnoop_open) unable to open slave
ALSA lib pcm_dsnoop.c:618:(snd_pcm_dsnoop_open) unable to open slave
ALSA lib pcm_dsnoop.c:618:(snd_pcm_dsnoop_open) unable to open slave
ALSA lib pcm_dsnoop.c:618:(snd_pcm_dsnoop_open) unable to open slave
Expression 'ret' failed in 'src/hostapi/alsa/pa_linux_alsa.c', line: 1736
Expression 'AlsaOpen( &alsaApi->baseHostApiRep, params, streamDir, &self->pcm )' failed in 'src/hostapi/alsa/pa_linux_alsa.c', line: 1904
Expression 'PaAlsaStreamComponent_Initialize( &self->capture, alsaApi, inParams, StreamDirection_In, NULL != callback )' failed in 'src/hostapi/alsa/pa_linux_alsa.c', line: 2171
Expression 'PaAlsaStream_Initialize( stream, alsaHostApi, inputParameters, outputParameters, sampleRate, framesPerBuffer, callback, streamFlags, userData )' failed in 'src/hostapi/alsa/pa_linux_alsa.c', line: 2840
18:05:32: Debug: PortAudio stream error creating device list: ALSA:sysdefault: Device unavailable
Expression 'stream->playback.pcm' failed in 'src/hostapi/alsa/pa_linux_alsa.c', line: 4611
Expression 'stream->playback.pcm' failed in 'src/hostapi/alsa/pa_linux_alsa.c', line: 4611

/Oscar