Must a 15 minute sample on AXC pass the same specs as the finished product?
the same specs as the finished product?
It has to be, as they put it, "Retail Ready."
There is a published process for an audition, but a question first. Where did you get the fifteen minute number from? I was using that for a while and then I went back and couldn't find the reference, including in their own publications.
Koz
Have you read before?
Are you following somebody's process? Or will you when you get that far?
What's the microphone and are you using the computer to record?
Koz
It's from the contract; mine is royalty share, and the whole performance is only about 10 minutes. All the auditions were very high quality too. ACX does specify requirements throughout, but wasn't sure how tightly they're enforced. Seems likely that everything is tested to ensure compliance, at every stage.
My narrator emailed me the main "chapter", which is 12 spreads of a children's picture book, and it all sounds great! This is her first solo ACX narration. Previously she's only been one of a cast of characters, where the producer handled all the technical details. Thanks to your answer, I'll worry less about it getting rejected at the last minute.

I haven't tried reading, but may experiment a bit.

Hopefully they'll understand the whole shebang is less than 15 minutes. I'll find out on Tuesday when the sample is due.
It's from the contract
What's the possibility of you posting that tiny section of the contract? If that bothers you, I can post email information.
One of the problems with getting ready for audiobook reading is the holes in the process. This is one example. I suspect if you don't have a contract, you don't know about the fifteen minute thing.
Are they the reader and the author? That's another surprise. They won't get much past "hello" without copyright documentation.
When I submitted, I went with three to five minutes and they seemed to be happy with that. So that's what I burned into my process writeup. That may be fluid.
What's not fluid is the technical restrictions. The first thing you have to pass is the ACX "Robot" which does basic loudness and noise measurements. It's similar to our ACX Check tool. New Readers never make it past this test. Background noise has to be a thousand times quieter than your voice. Nobody's house can do that, particularly if you believe the microphone makers that you can announce an audiobook on your kitchen table.
And etc.
You (or anybody) can publish a very short voice test on the forum.
https://www.kozco.com/tech/audacity/TestClip/Record_A_Clip.html
We're a lot faster than waiting a week for ACX to do their evaluations, particularly since ACX slowed way down because of the virus thing.


Did they say, clearly, they were OK with publishing a voice version of a children's picturebook? There was a forum poster who was sure they were going to publish their cookbook. I can't see going out for a hike and put on either of those audiobooks for entertainment. "Blend twelve eggs in a large mixing bowl." Gripping. They really know how to hold an audience.
The iPod still fits with the gloves and mask. I found a grand use for my collection of western bandannas.
Koz
Appears my profile won't yet permit me to send a PM. Maybe I could reply to one?
Your forum status is "questionable" which means an administrator has to read everything you post.
As we go.
Koz
With high post count, was in lock down, then clicking stuff made me log in again, and presto more buttons appeared!
I changed your post.
So can you post the section of contract that says Audition length now, right?
Koz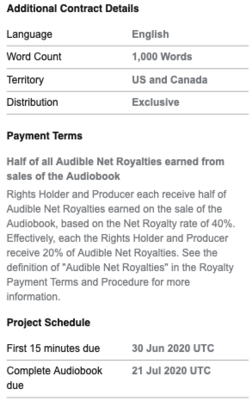 There's a snip from the boiler-plate production agreement. The audition script comes first, and for that there was a character count (2500 from memory) maximum. I also attached an illustrated/watermarked PDF of the first 8 spreads and cut it off, just before the surprise ending was revealed. Some read the text, some read the PDF, and some read both. By coincidence, month-end was a Tuesday, so I made the final deadline three weeks later, when ACX is available as needed.
I also attached an illustrated/watermarked PDF
Didn't get the PDF. Did the forum complain when you tried to post it? Not all file forms are acceptable to the forum. I can look.
The audition script comes first, and for that there was a character count (2500 from memory) maximum.
That's the hero info. I wonder if Google can convert from characters to seconds…
Near as I can tell, the piece you pasted is the first fifteen minutes of the actual book. That could be the first two chapters, or in your case, the whole book and half of the next one.
Koz
Let's see. 2500 characters at at average of 6 characters per word is 400 words. Reading out loud in English comes in at about 150 words per min so 2.6 minutes max for the audition. So I wasn't that far off with three to five minutes. I also wasn't that far off with my submitted audition which I have to go look up.
If you can find that exact wording, that would be terrific.
Koz
"Maxwells Cafe" ACX audition was a minute and forty-three seconds. Probably nearly perfect by accident. Brendon Solorz complimented me on turning in a technically perfect sound file and then spent the rest of the time telling me how to drink water and eat apples to straighten out my reading style.
I don't think apples are going to help. Keep the microphone, send the performer back.
Koz
The text began with spread 2, and ended with this final snip from spread 8:
Juniper stood tall. "I want everyone to see that my brother is special and they're here to help." She went in her backpack and took out ten huge …
The PDF included illustrations, spread 1, and the blurb on the back cover. I'll post a free ebook day, once ACX is a done deal.
I think I found it in the ACX help center.

Koz
For a Rights Holder I work with regularly, he has me just submit a 30-second clip for the 15-minute Checkpoint, so that he can quickly approve and I can get on with recording the rest of the book. The ACX submit doesn't actually check the length, so if the entire work is 10 minutes. Record it, master it, and submit it. Then when the RH approves it, you can record the opening & closing credits, and as long as you don't have to break your 10-minute piece into multiple chapters, you can submit that in the chapter section.
Sorry, I am late to the topic, but I hope this info helps.