Hello everyone,
I'm new to this forum, I registered particualry to share a though about new feature which came to my mind.
I'm not a pro in music editing, but I'm a vocalist and I'm doing a lot of homemade recordings. An easy way to see how much "in tune" is my sample would be extremely usefull. I'm talking about some analysis plugin for audacity which would siplay something like this:
This is of course a vocal tuner, can be used to tune vocal tracks, this kind of plugins already exists, like autotalent by Tom Baran.
What I'm talking about is only a way to view how in tune is our sample, I'm talking about this chart of frequency over time. I know there are features like spectrum analyser et cetera, but those are much too complex for a simple musician. I do not need to view the exact frequency, this is too much for a vocalist who wants only to see how in tune is his vocal sample.
Another example of this kind of display feature: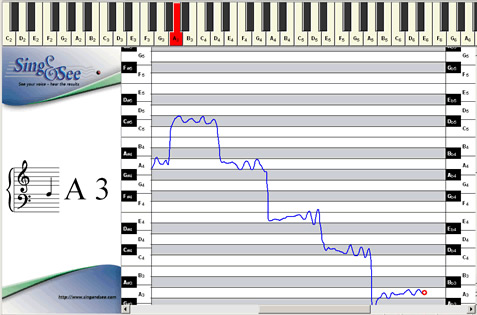 Here is Canta:
Canta is a free software, but it doesn't work well on Linux, plus it cannot analyse already registered samples, it works only in realtime with a microphone input.
I'm a computer science student, I'm starting my masters degree, so I'm not very experienced, but I'm not a newbie neither, I'm interested in developing this kind of feature for Audacity with additional help of course.