When playing a pure sine wave, a spectogram shows the graph attached below. The graph is for a 1000 Hz sine wave. I got the file from here: https://www.audiocheck.net/audiofrequencysignalgenerator_sinetone.php
Since a pure sine wave contains only one frequency, a spectogram should only show one thin horizontal line at that one frequency, right? That, however, is not what is shown in the spectogram. I don't mean the transients in the beginning, let's ignore them and just look at the formant part. Even there, the line is thick, already for the part which has the same white color, and even thicker if we include the other colors as well. When we look at the most zoomed in part, we can see on the y-axis that even for the part of the line which is white, the frequency ranges from somewhere between 950 to 1050 Hz.
If the range had been something like between 999 and 1001 Hz, I could understand that the FFT would not be able to pinpoint it exactly. But a range of 100 Hz? That's a lot!
So I wonder, why is this? Does it have to do with the FFT algorithm after all? If so, why is the FFT so inexact? And/or does it have to do with something else, and in that case, what?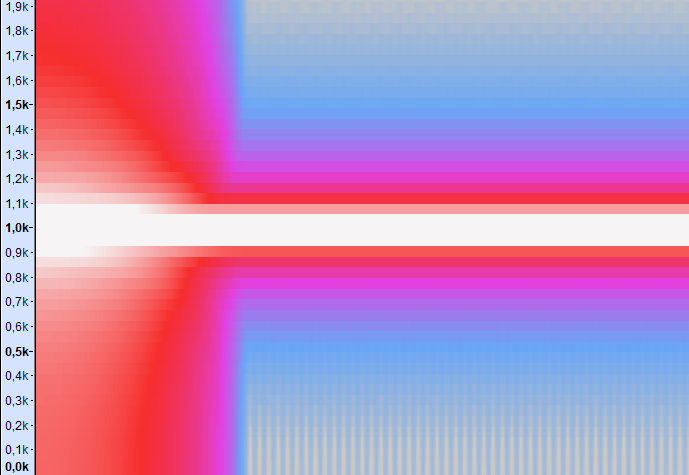 (Same file, just different amounts of zoom).