What else is new? Another acx narrator knowing nothing about sound, trying to "master" for acx.
I was hoping to find the "magic path" of post-prod effects, to pound every recording through, and voila!, but I am learning it doesn't work like that…
Help?!!
I have learned many things, mostly here, props to these topics:
viewtopic.php?f=64&t=80572#p252057
viewtopic.php?f=28&t=78561#p242164
and others…
The ubquituous Qs:
Using: Audacity 2.0.6 on Mac OsX 10.6.8

Equipment: Tascam DR-05, pop filter
Sample raw (untouched) clip. As imported off the Tascam.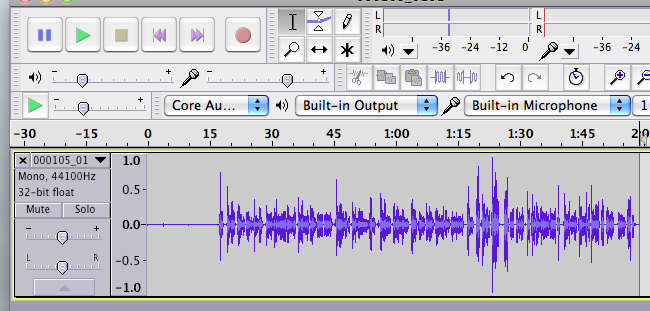 What I've been doing:
Sampling the long quiet space I leave at the beginning for noise removal and noise removing whole recording.
Editing out my faux pas
Saving as a "raw" project before I mess around
Now the dubious stuff-
Compress 3:1, -24 threshold, 10ms attack, 80ms release, 0 gain, noise floor -60
Apple: AUFilter (stripping out highs and lows? hopefully) low at 100hZ, high at 10 000
Steve's Limiter, to -3dB, from here
Normalize, max amp to -3dB


"After" clip - would it pass? Does it sound right?


Commentary:
I'm happy with the room - I don't notice any trouble with humm or hiss.
I think it sounds "ok", but I wouldn't know. Something seems to go off when I put it through my chain even though the compression at least seems desirable.
My main Q, I think, is how do I achieve the holy -23dB and -18dB RMS (wtf is RMS anyways, or do I need to know?)? How do I know I've got it? When I Analyse Contrast on various recordings I get different results between -16.2 and -21. Obvs, I don't know how to manipulate this.
I'm using in-device noise removal on recording, to 80hZ. The Tascam records on a microSD and then I transfer to comp. My recording level is 69 now and I speak about a foot from it. Recording in mono, 44.1- that's set on device.
My earlier reading here prompted me to turn up the levels on my mic/recorder, and then not speak so close to the filter, because the meter was running lower than the little "optimum" tick on the display. Maybe that was a mistake - now it seems I hit the "top" (0dB, I think, learned -bad) up to 3x a recording. But then, sometimes not. Depends on the "theatrical-ness" of the excerpt, too, I've noticed.
I tried not using the noise removal and then I fancied that some low fuzz came out of nowhere at some step, and also my inhales got amplified into obese caterpillars of wave forms, like gasps before I speak. Not ok, I went back to noise removal.
Should I be doing LowPass instead of the AUFilter (I thought, high and low togehter, boom)?
NoiseGate? Amplify?
Thank you in advance!